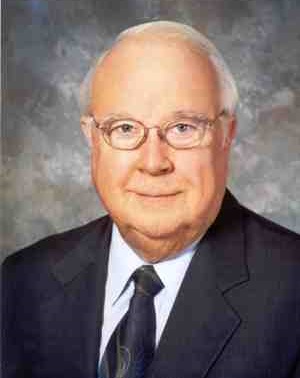 The second of four children, Tom was born May 5, 1937 to Tom and Margaret Rhodes in Houston, Texas. Tom's mother played a pretty mean piano and his dad played trumpet in high school. Tom's mother became an English teacher, and his father was an architect and later a design engineer for Dow Chemical.

After attending elementary school in Houston and Wimberley, where they had two grades and one teacher in each classroom, and the only music in the school was the principal playing his guitar, Tom did play Humpty Dumpty and sang "I'm Looking Over a Four Leaf Clover" in a school musical. He attended Spring Branch High School where the friends he met all seemed to be in the band. Tom went to the band director and said, "I want to join the band." Mr. Larson, a great piano player and volunteer band director gave Tom an Easy Steps to Band book and told him to go in to the uniform closet and come out when he had learned to play. About ten days later, Tom emerged from the closet and stated he was ready to play in the band. He was placed in the third clarinet section.

Tom had wanted to play the trumpet, but got the instrument names mixed up, and his mother bought him a clarinet as a surprise. He tried to explain he did not want this thing with all the black pieces; he wanted the clarinet that had three valves. Tom's mother said she had paid $99.95 for that clarinet and that was what he was going to play if he wanted to be in the band. "The band was not very good, but we had a good time" Tom stated. And then entered Mr. Elmer Hinkle, who instantly kicked out over fifty percent of the band including all of the sax players. He asks if any of the people who were left would switch to sax, and Tom immediately said, "Yes."

Tom's final year in high school was at San Marcos High School, were he was inspired by his band director Ed Holt. He earned first divisions at solo and ensemble contest, and was named the Outstanding Senior member of the band.

He entered Sul Ross State Teachers College with a full music scholarship and finished his degree in three years. Dr. Joseph Bellamah was a great influence in college and Tom has always been grateful for the individualized instruction and guidance he received from Dr. Joe. Tom received his Master of Music degree from Sul Ross University.

After graduation in 1958, Tom was hired as a junior high band director and assistant to J. O. Robertson at the high school in Kenedy, Texas. He was very excited about his $300 per month salary. The following year, Tom accepted the director of bands position at Marfa, Texas. This was a great experience building the band from sixteen members to seventy-five in one year.

In 1960, Tom became high school band director at Fredericksburg, Texas where he again built the band from thirty-two members to over two hundred and forty during his fourteen-year tenure. The Fredericksburg years were exciting, where he taught the fifth grade through high school band every day with over six hundred students. Tom's bands were consistent Sweepstakes winners at all levels, and won many individual festivals and awards.

Tom accepted the position as assistant director of the University of Texas Longhorn Band in 1974, and in 1975 he became the head director until 1980. As director of the Longhorn Band, he was presented the Sudler Award for outstanding contributions to university marching bands across the United States.

In 1980, Tom was employed as Educational Director and head of the Band Department at Southern Music Company. Later, in 1988, he started his own sheet music company along with partners Don Bierschenk and Freddy Carrillo. He has continued the development of RBC Music Company for the past fifteen years. He and Don Bierschenk were hired by the Hal Leonard Corporation to develop and compose a new comprehensive band method, which they titled Essential Elements for Band. The book became a state-adopted textbook. The newer version 2000 has three books and is one of the largest selling band methods in the world.

From 1986 to 1995, Tom was associate conductor of the San Antonio Municipal Band, and in 1996 became the band's Musical Director and Conductor. Tom has been a member of TMEA, CBDNA, MENC, Phi Beta Mu, Kappa Kappa Psi, and is Past-President of Texas Bandmasters Association.

In 1967, Tom married Carol Ann Hartmann, who was the daughter of his junior high school principal in Fredericksburg. Their daughter, Jodie Ann, was born in Fredericksburg in 1970. She attended Texas Tech University as a music major. Tom is very proud of the accomplishments of his daughter who is now a band director in the Spring ISD.

Tom says he is extremely blessed in many ways. His wonderful wife and daughter have been so supportive throughout his career along with the greatest friends, students and parents in the world. He considers it such an honor and privilege to be included in the Texas Bandmasters Hall of Fame. It is from these people that he has learned the most.