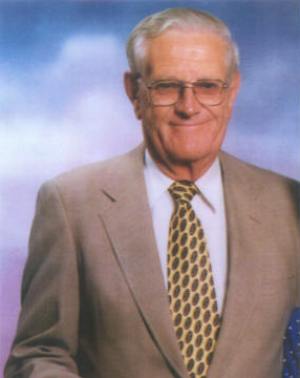 Digital Scrapbook
Melvin Meads, born in Baltimore, Maryland on April 4, 1927, was the fourth child of Charles and Bessie Meads. The Meads family, including Melvin's brother, Charles, and his three sisters, Gloria, Kathleen, and Shirley, the youngest, moved to Texas in 1935. As of this writing, Charles is the only surviving member of the family.

Melvin attended Luther Burbank High School in San Antonio and played trombone in the Bulldog band under the direction of the late Vernon Mayfield. There he forged many lifelong friendships with fellow band members, several who became band directors themselves. World War II was still raging when Melvin graduated in 1944. He joined the Navy that year, but saw little action because the war ended shortly after he finished his basic training.

Following his discharge from military service, Melvin enrolled in the Vandercook School of Music in Chicago, Illinois. There he earned a Bachelor of Arts degree in music education. Melvin returned to San Antonio and met his future bride, Helen Jo Buchanan, through mutual friends. Helen Jo, affectionately known as Jody, and Melvin raised three children, a beautiful daughter, Cheryl, and rambunctious fraternal twin boys, Larry and Leslie.

Melvin played trombone in dance bands in the San Antonio area before beginning his career as a band director. He also sold band uniforms part-time for Bruno's and Company. He began his high school music vocation following his marriage to Jody. His first directing job was at Pleasanton High School, near San Antonio. After three first place UIL awards in two years at Pleasanton, Melvin directed the Poteet, Texas High School band. He earned two more first place awards in two years at Poteet.

In the fall on 1954, Melvin moved to South San Antonio High School, where he directed for twelve years. The South San Bobcat band earned a UIL Sweepstakes award in his last year at South San. The late Robert Geisler helped the South San band prepare that year while Melvin recovered from a terrible bout with gout. He then moved to Robert E. Lee High School in the fall of 1966. Under his direction, the Lee Volunteer band continued its long tradition of earning UIL Sweepstakes awards.

Countless numbers of his students have said that Mr. Meads had a lasting positive influence on their lives. Even sons and daughters of his band students participated in school band programs because of that influence. Many of his band members continued their interest in music programs following high school. Several of his students completed college music programs, and became band directors or professional musicians or both. Others served in the armed services music programs. One endearing story not only shows the positive influence Melvin had on his students, it also reveals his generosity. A student at South San High School told Mr. Meads he would have to give up band because his family could not afford to pay for his clarinet. Melvin used his own money to cover the cost of the clarinet. That student not only finished high school as a band member, he became a high school band director in south Texas and is still teaching today.

Throughout his teaching career, Melvin was emphatic in telling his students that being on time to class meant that you were warmed up and ready to play as soon as class started. It was practically a sin for a student to enter the band hall just as the bell rang. Correction, it was a sin! All of his students can tell you one of Melvin's mantras was "If you're on time, you're late!"

Melvin's band at South San High School was the first marching band in the San Antonio area with a bass drum that could be twirled. He also appointed the first female drum major at South San in 1965. One Robert E. Lee High School student is quoted in the 1976 yearbook saying, "You spend so much time together as a band member, you either love it or hate it. Either way, we learned a lot more than music from Mr. Meads."

Melvin ended his music career on a high note. He took the Lee High School band on a trip to Daytona Beach, Florida to participate in a prestigious band competition. Besides having a lot of fun, the band earned the Best 3A Band award, the Best Jazz Band award, the Best Marching Band award, and the Best Overall Band award.
We cannot hope to recall every one of Melvin's students by name, but we can surely say that he helped them all to become better adults and citizens because of his devotion and commitment to them.

Melvin was an active member of the Texas Bandmasters Association during his teaching career. He served in every executive position in the organization and was President of TBA in 1967.

Melvin and Jody, who was a schoolteacher as well, both retired in 1982. Besides his love for music, Melvin enjoyed traveling the open road. He drove charter buses for several years during the summer, when he was not working with the band, for the Kerrville Bus Company. He also drove the charter bus for the San Antonio Missions baseball team for two seasons in the early 60's. Once Melvin and Jody retired, they sold their San Antonio home and became full-time travelers, living in a travel trailer that they took all over the United States and Mexico making many new friends along the way.

Sadly, Melvin was diagnosed with cancer in December 1998. Mel and Jody gave up their travels while he underwent extensive treatment in San Antonio. His life ended prematurely on October 24, 1999, at the age of 72, less than two months shy of his 50th wedding anniversary. His wife, children, and grandchildren all remain in San Antonio.