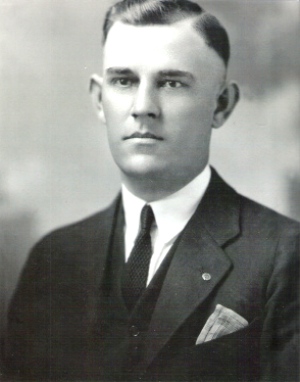 Digital Scrapbook
Elijah Ashburn Lightfoot, my grandfather, otherwise known to at least seven of his grandchildren as "Big Daddy," was born on September 19, 1881, in Pittsburgh, Texas to Elijah and Lucy Reynolds Lightfoot. He was one of thirteen children, five of whom died in infancy. His father was a dentist and encouraged his son toward the profession. After working with his father for two years, the sight of pulling teeth, and other stomach turning issues, had no appeal to young Elijah. "I would run out of the room every time my father put the forceps into action." He began to study music at age 11.

On June 11, 1911, he married Elizabeth Mae Jarrett and had three children, Ann, Jarrett, and Franceys. It is told that he loved to play with the children, and was especially fond of teasing them. "He would pinch our checks in a playful fashion," according to the grandchildren. The family lived in the Sherman, Greenville and Paris areas of Texas. In 1922 the family moved to Bryan, Texas where he was musical instructor and band director for Allen Academy. While there he raised 400 mallard ducks, which he loved dearly. This, however, did not interfere with his passion for hunting with his son, Jarrett, in the Navasota River bottoms. He also searched for oil in the Texas and Oklahoma fields at one time.

Major would commute from his home in Dennison to instruct bands in Paris, Sherman, and College Station. At the same time, he was training with the Army Band. During his career, he taught 4000 students, and all of his bands were tops in their fields. During World War I, he was active in the work of the Student's Army Band Training Corp, and as a government musician, he trained hundreds of musicians for the Army's regiment bands. He helped organize bands all over Texas, and in 1924 founded and was elected first president of the Texas Band Teachers Association. The next year, he was instrumental in passing the legislation allowing cities to levy a tax to pay for the organization and direction of a municipal band. This helped keep music alive in Texas.

His first work was in Summerville, Texas where he directed a band for the Santa Fe Railroad, and for five years he developed this splendid organization. He was also Governing Musician for Burleson College. Music was his love. Prior to joining Aldine High School in 1938, he directed the Allen Academy Military Band for eleven years. The band won state contests for seven consecutive years, and its boom could be heard "round the world" when it took 1st place at the 1928 International Music Festival in Miami.

He is listed in the Texas Encyclopedia "Men of Texas." He personified excellence, dedication and a love for music. In 1965 former students of Aldine High School held a reunion in his honor. One composed a poem: (an excerpt)

"We were Major's kids, all tall and straight,
Pop songs, short shirts would have to wait,
As concerts were played from our chairs,
Music with beautiful straight long hair,
Drum majors in trousers instead of a skirt,
And busted they were if they did flirt."

Major wrote and produced original scores, one being the "Aldine High School" song. The family presented the original score to Aldine High School in 2001. His Aldine High School bands were tops in their field. Unified and disciplined groups, they performed military marches instead of current popular songs. Each band had a squad of twirlers and a marching pep squad. The group was unique for that time, and was in demand for parades, notably at Rice Stadium and the Cotton Bowl.
He mastered many instruments. Not only was he a talented musician of the highest degree, possessing a keen knowledge of music and great interpretive talent, he had that further requirement of the successful—the talent of keeping an assemblage of musicians in the proper mood for the best work. Major Lightfoot was a true credit to music. He died January 1, 1970.