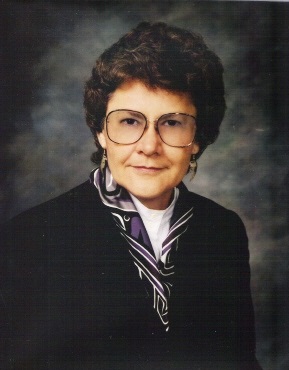 Born November 12, 1936 in Victoria, Texas, Verda Herrington got her first big musical break when her observant mother noticed Verda's interest in a schoolmate's instrument. The cornet her mother secretly ordered from Sears arrived 6 weeks after school started, but director Everett Maxwell in Andrews, Texas agreed to let Verda join the band late. Even before leaving Andrews to attend high school in Freer, Texas, Verda was "addicted" to music and knew she wanted to be a band director; after all, conducting was the only way she could think of "to get to play all the parts!"

At Freer, director John Myers willingly answered all kinds of questions and spent extra hours introducing Verda to music theory and literature beyond what he could cover in band class. She enjoyed playing at any venue and in every possible event, but Verda soon knew that she really wanted to teach. Witnessing a child's musical discovery became and remained one of Verda's most powerful drives throughout her musical career.

Ms. Herrington credits her own development as a musician to Dr. J. Frank Elsass, and Alexander von Kreisler at the University of Texas in Austin, where she earned both Bachelor's and, later, Master's degrees. Dr. Elsass was her trumpet instructor and director in the Symphonic Band, while Mr. von Kreisler led the UT Symphony. She continued that development performing in the Midland-Odessa Symphony under Dr. Lara Hoggard, and later in the Austin Symphony under Ezra Rachlin.

In 1961, Ms. Herrington was somewhat oblivious to any societal trend-setting praise or criticism for being a woman in what was then a traditionally male occupation. After all, Dorothy Post had been Maxwell's assistant in Andrews, and she had student taught with Verna Covington in Austin. Though there were only a few female directors in the state when she began teaching, Verda remembers only support along the way.

A teaching career that spanned 31 years began at Alamo Junior High in Midland, where Verda was able to learn in a region of band directors who shared their knowledge and expertise regardless of social affiliations. This supportive environment fit well with Verda's own inclinations for egoless teamwork, kindness, and gentle encouragement.

Beginning in 1969, Verda spent the next 12 years teaching in Austin: 4 years at Webb Middle School, 7 years at the new Anderson High School, and then returning to Webb for 1 year in its incarnation as a 6th grade center. Ms. Herrington spent 7 more years at the high school level – 3 years at Kline High School, then 4 years at Pflugerville High School – before returning to the joy of teaching new musicians at Westview Middle School in Pflugerville for 6 years.

Ensembles under Ms. Herrington's direction consistently earned top ratings at UIL and other competitions. However, she does not generally recall which band earned what rating at which contest during her career. She was proud of "her kids" when they had success, but for her, it was always about the performance, sharing of music person to person, and the awakening of the musician to the music.

Offering a selection of scores that would stretch the group's talents and skills, Verda always gave her students a voice in the choice of literature to be performed. One time, she even bribed her Austin Webb Middle School band, by agreeing to play a pop tune they liked on the spring concert, if they would play "Jesu, Joy of Man's Desiring" at contest. Of course, they learned to love it. This kind of dialogue between teacher and student set the stage for some unusually tight-knit, confident, and highly motivated bands that delivered outstanding performances, for example, Anderson High School's performance of the entire Hindemith "Symphony in Bb" won the 1979 Buccaneer Music Festival. Dedication to individual excellence was so pervasive throughout the music program that Anderson won TSSEC 7 years in a row. Even so, successes like these would have been impossible without continual support from parents and school administration. To this day, Verda continues to express gratitude to "her family"—parents, students, and administrators alike – for their constant and willing participation.