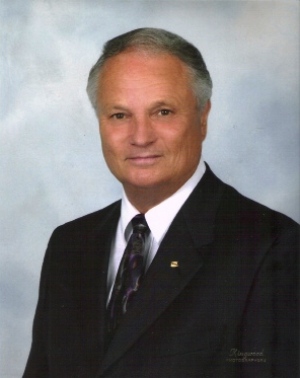 Digital Scrapbook
Ben Robert Gollehon was born in Amarillo, Texas, August 10, 1936, to Oleta and Noel Gollehon. Ben, his parents, his two sisters, Ann and Kathy, all sang and played musical instruments and they performed at church socials, weddings and funerals in the Dimmitt area. In 1953, he attended the first WT band camp and knew he wanted to become a band director. After graduating from Dimmitt High School, where he participated in choir, band, and football, he enrolled at West Texas State College. Ben had a double major in band and choir, so was active in band, dance band, choral and stage musical performances. He also was a member of the popular college quartet the Hi-Fi's. This group sang at many functions in the Panhandle area, and helped pay his way through school. During his senior year at WTSU, he met and married Virginia Owen on July 5, 1958.

With a Bachelor of Music Education degree from WT, he was offered a choir director's position at Amarillo High School for $125 a month, but found out that band directors made $225, so he gladly accepted the band director's position at Pampa Junior High. On April 3, 1959, he won his first Sweepstakes, and a few hours later, their first son John was born. Ben stayed two years in Pampa and won Sweepstakes both years in band and choir.

Ben became the band director at Hereford High School in 1960. The band had dwindled to forty students, who were not happy that their favorite band director, Charlie Bell, had left. At the marching contest that year, Ben had the forty members form a treble cleft, march up and down the field playing a two-part arrangement of "Say It With Music." Over the years, the band grew to two hundred and twenty talented musicians with a strong devoted booster program. The band won eleven consecutive Sweepstakes, Best in Class at the Tri-State Music Festival in Enid, Oklahoma, the 'Doc' Severinsen Jazz Band Festival, Six Flags Over Texas, the Buccaneer Music Festival at Corpus Christi three times (one year a judge got so excited listening to the band, he stood on his chair), and the 1968 Honor Band award of the State of Texas. He was the first director in the Panhandle to instigate team-teaching techniques in band, and has presented this technique at several conventions. Ben was active directing church choirs, community bands, and vocal productions. He also was involved with the Campfire Council, Lions Club Crippled Children Camp in Kerrville, and taught many band students to water ski on the only watering hole in the Panhandle, Buffalo Lake. While living in Hereford, their daughter Julanne was born in 1963, and their son Lee in 1969.

One of the highlights of his teaching career was conducting the Honor Band at the 1968 TMEA convention in Austin. The audience gave the Hereford Band an extended standing ovation after they performed "Symphonic Movement," by Nelhybel, who was in the audience and came backstage to congratulate the band; "Oboe Concerto," by Marcello; "Jalousie," by Gade/Krance; and "Enigma Variations," by Elgar.

The Hereford Band represented Texas at the Lions Club International Convention in Mexico City in 1972, where the band marched in the parade, performing "Guadalajara" (an outstanding arrangement sent to Ben by Art Guajardo). The crowd went wild, throwing flowers and their coats on the ground and shouting "Ole!" But that night, several of the students came down with "Montezuma's revenge," and a Mexico City doctor decided to quarantine the entire band for a week. So, early in the morning Ben, his assistant Randy Vaughn, and parents quietly carried the sick to the bus, loaded up and snuck out of town. They half expected the Mexican police to stop them, and breathed a sigh of relief when they finally crossed the border.

Ben left Hereford in 1973. He was involved in an almost fatal car wreck and after a long recovery, and receiving his Master of Arts degree from WSTU went back into the band field at Carson City, Nevada. There his band won several awards in Nevada, Arizona, and California, and in 1977 was chosen to represent Nevada at the Presidential Inaugural Parade for President Carter. After two years, he returned to Texas and accepted the band director's position in Grapevine. The first year the band made a 3rd Division, which was very depressing. However, later accomplishments erased that feeling and the band won the first Sweepstakes in the history of the school, and the year after, Best in Class at the Six Flags Music Festival in Georgia.

In 1981, he rejoined his outstanding Hereford superintendent, Dr. Johnny Clark, and accepted the position as Director of Visual and Performing Arts in Baytown, Texas. While there he helped raise the level of competence in band, choir, orchestra, art, drama and foreign language.

Ben retired in 1991, after thirty-three years of teaching, and became the executive secretary for Region XIX UIL Music in Houston. He has served as clinician, adjudicator and guest conductor throughout Texas and surrounding states. He is a member of Phi Beta Mu, TMEA, TBA, ASBDA, TSTA, NEA, Lions Club, and TRTA, and is chairman of the Alpha Chapter Phi Beta Mu Hall of Fame committee.

Ben and Virginia have been married for forty-four years. Their son John and his wife Sharon live in Ft. Worth; their daughter Julanne, her husband Pat and two children, Ben and Paul, live in North Carolina; and their son Lee lives in Houston.
The constant support of his wife and best friend Virginia, the love of his family, his friends, his assistants Clyde Wilson and Randy Vaughn, his mentors (among them Bill Tregoe, Dub Crain, Ted Crager, Gary Garner, and his high school band director, Ralph Smith), his students and their parents, have made everyday rewarding and worthwhile
.
Ben is very honored to be included in the Texas Bandmasters Hall of Fame.