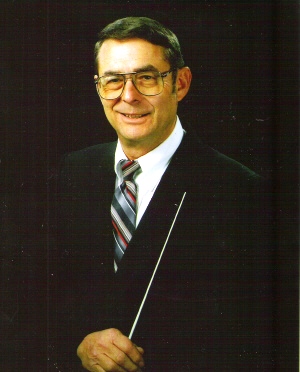 Digital Scrapbook
James was born on February 3, 1933 in Wilbarger County, near Vernon, Texas. His family was of Swiss extraction. His great-grandfather, Christian Streit came to the United States in 1884, and settled the land, which has remained in the family for over 100 years. The family had a strong commitment to farming, the Lutheran church and music making. Fred Streit, James' grandfather, formed the Streit Brothers Band, which performed regularly at community events, including a "whistle stop" by Theodore Roosevelt at Doan's Crossing on the Red River in the early 1900's. Several of the Streit brothers served in General Pershing's AEF Army Band during World War I. James attended the Zion Lutheran Parochial School (a one-room school), and graduated from Lockett High School.

James exhibited creative tendencies at an early age. When he was about 4½ he was inspired by the comic strips he had seen of houses up on bricks, so he jacked up the chicken house and put it on bricks! Shortly thereafter, his family decided it was time for him to begin violin lessons, probably in self-defense. His father drove him to his weekly violin lessons in Wichita Falls, which is a round trip of over 100 miles.

James attended Midwestern University and completed a BA degree in violin performance in 1953. He met Patricia Morgan at the university and they married in December of that year.

They moved to San Antonio for the duration of his military service, where he played cornet in the Fourth Army Band. He also played violin in the Fourth Army Show Band, which performed weekly on a radio show. After the service, James and Pat returned to the Vernon area in 1956, where they currently reside.

After farming for several years, James began his career at Vernon Junior High, teaching choir, music, and art appreciation. He moved his teaching a little closer to home the following year by teaching fourth grade at Lockett Elementary School, in the rural school district of Lockett. Later, he moved into the junior high grades and taught, among other classes, music, and art appreciation. In 1965, James started a rhythm band, made up of flutophones, melodicas, and rhythm instruments such as rhythm sticks and tambourines. The rhythm band rehearsed in the gym, where the wind band also gave concerts and marching exhibitions. In 1966, the school decided that it was time for a full-fledged band program. The band continued rehearsing in the gym until 1968 (although marching rehearsals were actually moved outdoors). By then, some of the band members had become ninth graders and were in the Lockett High School building, six miles away from the elementary building. James bussed the sixth through eighth graders to the high school each day, so rehearsals could be held somewhere with better acoustics than the gym – the Ag building!

He accepted the position as band director of Crowell High School in 1969. The band program was an established one, which continued to grow during the eight years James was the director. It grew from 48 members to over 90, which is a significant percentage of the student body in a Class A (now classified as AA) school. During the time James directed the Crowell band, he developed an interest in magic and decided to work a levitation act into the band's spring concert. Some ladies in the audience were so convinced that James was truly levitating a girl from the band that they screamed and ran out of the auditorium.

The Crowell Band received numerous awards and honors, including the Class A Honor Band in 1976. James' daughters drove from Waco, where they were attending Baylor University, to San Antonio for the Honor Band performance. They went to the rehearsal room in the Lila Cockrell Theater where the band was supposed to be warming up, but there was no band there, and it was just minutes before their performance. A couple of chaperones explained to his daughters that everyone was nervous, so Mr. Streit had taken the band for a walk around the block.

James continued his teaching career in Quanah, where the band program moved from consistent four and five ratings to consistent first division ratings in two years time. In order to deal with his farming responsibilities, which had been present during his entire teaching career, James moved back to the family farm and became the band director at Vernon High School. James taught at Vernon Intermediate for his last few years of full-time teaching.

Currently, James teaches several violin students at home, even though there are no orchestra programs in the local schools. His students perform regularly in the community and participate in UIL Solo and Ensemble contests. He also builds elaborate outdoor Christmas decorations and his Christmas display is an attraction for the entire Vernon area. When he isn't too busy with everything else, he still manages to farm full-time.

James is a member of Phi Beta Mu, TMAA, TMEA, TBA, Rotary Club, the Board of Directors for Vernon Junior Community College, Gideons, serves his church as a deacon, director of the Adult Four Sunday School Department, and is a member of the church choir and the orchestra/band. In 1990, James was named Midwestern University Outstanding Alumnus.

James and Patricia have three children; Barbara Streit, who is a band director; Julie Nickoloff, who is currently a stay-at-home mom, with a BA in piano performance and an MBA; and Scott Streit, who is an assistant vice-president in commercial real estate lending. Julie and husband Skip have two daughters, Emily and Lauren, and Scott and wife Patrice have two sons, Jonathan and Christian. Between everyone, there are seven dogs and three cats, which are also important family members.
Mr. Streit passed away in September of 2017.