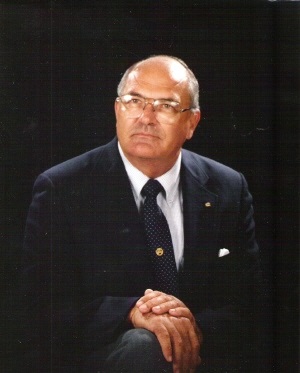 Fred Stockdale was born December 11, 1933, in Fort Worth, Texas. Fred's father, an attorney, moved the family to Aspermont and later to Haskell. His father was a member of the town band in Aspermont, and Freddy looked forward to their Sunday afternoon concerts on the square. Fred was a sophomore in high school when the family moved to Morton. Instrumental music instruction was limited; however, the annual Lion's Club show band provided an opportunity for Fred to play both clarinet and drums.

In the fall of 1951, he enrolled in Eastern New Mexico University as a music major. He met and married Jo Wanda Armstrong from Clovis, New Mexico in 1953, and their first son Steve, was born a year later. Fred decided not to return to school at the end of the semester and worked for a year as a locomotive fireman on the Santa Fe Railroad. The pay was good, but so was Fred's desire to return to school and become a band director. He received a Bachelor of Music Education degree from ENMU in 1956, and accepted his first teaching assignment in Olton.

The Olton band program improved and grew under Stockdale's leadership. In 1958, the Olton Chamber of Commerce named him "Teacher of the Year." In the spring of 1959, the high school and the junior high bands received first division ratings in UIL concert and sight-reading competition.

Fred moved to Lubbock in 1959 to direct the Monterey High School band. The next three years brought UIL Sweepstakes. The program grew from 120 members in 1959 to more than 200 members by 1961. He served as TMEA region chairman during this time and in 1960 was elected to membership in Phi Beta Mu.

Fred's family was growing. His son Freddy was born in 1958 and his daughter Lizann was born two days before he received his Master of Arts degree from ENMU in 1960.

Stockdale was hired in Pampa in 1962. The band had been invited to perform at half-time for the Dallas Cowboy football game in October. That meant nationwide exposure on the Sunday afternoon telecast. When the band returned to Pampa there were letters from all parts of the country congratulating them on their precision marching and great sound.

The following year the band was a winner at the Tri-State Music Festival in Enid, Oklahoma including Outstanding Marching Band and winner of the Million Dollar Parade. That summer the band placed third in TMEA honor band competition in class AAAA, which at that time was the largest band classification in Texas.

In the fall of 1964, the RCA Rodeo Association asked the band to play during their televised finals in Los Angeles, California. There was a musicians' strike at the time, and officials of the Rodeo Association remembered the way the band had played at the Pampa rodeo each year. With only four days notice they flew the rodeo band to LA on a chartered plane and paid all expenses for the week. The band performed opening night and was heard nationwide on the ABC television network. The next day the musicians' union settled their strike and played the remainder of the performances.

Doc Severinsen's first performance with a Texas high school band was in Pampa on January 7th and 8th, 1965. After those performances Doc agreed to a return engagement the next year. The UIL Sweepstakes award brought that busy year to an end.

Fred worked in private industry for two and a half years, but never felt comfortable outside the public school band field. He returned to teach in Olton and was named "Outstanding Citizen" in 1969 by the Chamber of Commerce.

In 1976, Fred accepted the band director position at Bridgeport. The high school band enrollment had dwindled to fewer than 55 students. Over the next two years, two additional staff members were added, a successful private lesson program was organized, the band parent organization thrived, and band enrollment at the high school reached 140. The Bridgeport band became a consistent Sweepstakes winner during those years.

Professionally, Fred was active on the Phi Beta Mu board, and served as President of the Texas chapter in 1983-84. He also served as President of the Texas Bandmasters Association that year. He served three terms on the International Board of Directors of Phi Beta Mu.

Azle superintendent, Wendel Hoover, contacted Fred in the spring of 1983, and asked him to rebuild their band program. Enrollment was down in this class AAAA School, and parents were demanding changes. The band program started improving after the first year, it stabilized the second year, and the band won sweepstakes the third year.

Fred became Director of Fine Arts in 1986 and remained in that position until his full retirement in 1998, ending 40 years as a music educator in the public schools of Texas. During his years as fine arts director, Fred was asked to organize the first after-school care program, a community education program that served over 1,000 adults the first year, and later was instrumental in obtaining government grants that allowed the Azle district to hire a full-time social worker and campus police officers.

In 1996, Jo, Fred's wife of 43 years, died from the effects of scleroderma, a connective tissue disease for which there is no cure at the present time. Fred remarried in 1997. His present wife, Donna, is a retired educational diagnostician. Fred and Donna live in Ft. Worth where they volunteer in the DFW Airport Ambassador program, work in the Ft. Worth police code blue program, serve on boards with Tarrant County United Way, and are members of St. Luke Cumberland Presbyterian church where Fred serves on the Board of Deacons and the finance committee. Fred is also active as a UIL judge. Between them they have six children and six grandchildren. They can always find time for family activities.

Fred has never forgotten the early influence these people had on his career: Earl Ray, Dub Crain, Chief Davidson, O.T. Ryan, Gary Garner, Bill Woods, Ted Creger, Orland Butler, A. Clyde Roller, and his college mentors Floren Thompson, and C. M. Stookey.

Fred appreciates the Phi Beta Mu Hall of Fame committee and the Board of Directors, for his selection as one of the recipients of this award. Thank you!

Mr. Stockdale passed away in June of 2018.