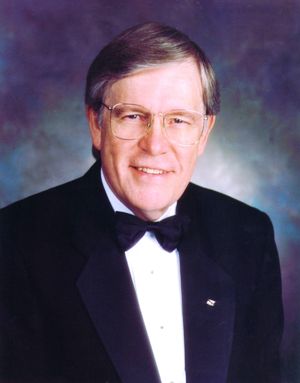 Richard Crain was born on April 22, 1934, in Christine, Texas, the son of Florence Martin Crain and Richard Clyde Crain. His older sisters were Elizabeth Burgard Kuykendall, and Jimmie Migura Moore, both deceased. The Crains moved to Charlotte, Texas, population 1272, in 1941. Since there was no band program in Charlotte until the fall of 1949, Richard chose the trombone as a beginner at the start of his tenth grade year. By his senior year, he made a first division on a Class I solo and was drum major. The high school band program included seventh grade students in order to have about 40 members for performances. The fight song was based on "Go You Northwestern" ("Go Charlotte Trojans"), and the alma mater was the same song played at a very slow tempo. They saved a lot on music that way.

Richard was salutatorian of his class. Of course, there were only six students in his graduating class and he takes pride in the fact that he was in the top 30% academically! Realizing he wanted to be a band director in order to reach young people in a positive manner through music, Richard enrolled in Trinity University, San Antonio, in the fall of 1952 with a $50 music scholarship and a $100 salutatorian scholarship. At Trinity, he participated in band and choir and served as President of the band his senior year. Richard fondly tells people that he spent two terms at Trinity—those of Truman and Eisenhower! Upon graduation from Trinity in 1956, Richard became the band director at Mercedes High School and the Mercedes band received the first superior rating in many years. Richard also organized the choir program at Mercedes High School.

Richard moved to Temple, Texas in 1960 and became the band director at Lamar Junior High School, and the Choir Director at Seventh Street Methodist Church. There he met Gayle Ruth Albert, who was a student at Temple Junior College. They were married June 24, 1961. A former business teacher, Gayle works with Richard in most of his music education projects. In 1964, Richard was hired as the junior high band director of Belton ISD. The next year, he became director of the Marching 100 Band at Belton High School. During his years in Belton, Crain earned the Master of Education degree from the University of North Texas with a major in Administrative Education and Minor in Music. The Crains spent 15 happy and rewarding years in the wonderful community of Belton. All three of their children were born in Belton. Richard Scott Crain is married to Jennifer Gayle Jenkins, and they have two daughters, Lauren Elizabeth, 4, and Emily Page, 2. Roy Christopher Crain is engaged to marry Melissa Covington on December 15, 2001. Steven Guy Crain, the youngest son is single. Scott, Chris, and Steve all excelled in band and now have successful business careers in the Houston area.

In 1979, the Crains moved to Houston, where Richard became the head band director at Spring High School and the Supervisor of Music for the Spring Independent School District. Two years later, the north and south campuses of Spring High School split into Spring and Westfield High Schools, and Richard was asked to serve as the first band director at Westfield. Thus, he was both the last director at the full Spring High School with two campuses and the first director at the new four-year Westfield High School. At the end of that year, Richard moved into the administration building as Director of Music over elementary music, all secondary bands and choirs, and drill teams. He served as Director of Music for 21 years for the Spring ISD. During his tenure, Spring ISD received national recognition for its exemplary music programs. In 2000, Richard retired after 44 years in music education. The new Spring High School Fine Arts building was dedicated in Crain's honor and was named the Richard C. Crain Fine Arts Building at ceremonies in December, 2000.

Crain's bands have performed in the Tournament of Roses Parade, in a television special with Doc Severinsen, and in a special performance for former President Lyndon B. Johnson. His bands won honors at numerous festivals and contests in Colorado, Florida, Louisiana, and Virginia, as well as throughout Texas. His Belton, Spring, and Westfield High School Bands won numerous sweepstakes awards for concert, sight-reading, and marching contests and were Honor Band for their region each year they were eligible. Under his direction, the Lamar Junior High School Band was ranked third in the state in the TMEA Honor Band competition; the Belton High School Band won first place in the Parade of Champions Marching Contest and the Astroworld Marching Contest; the Spring High School Band presented a concert at the Midwest International Band and Orchestra Clinic in Chicago, Illinois; and the Westfield High School Band won first place at the Astroworld Concert Festival.

Crain has been active throughout the United States and Canada as an adjudicator, consultant to school district music programs, clinician, and lecturer at universities. He has presented numerous adjudicator workshops and has been a conductor/clinician for numerous All-Region honor bands. In April of 1999, Crain served as conductor for the Nevada All-State Band, and in January of 2000, he was the conductor of the Central Oklahoma Honor Band. The year 2000 represented the third time Crain has served as a clinician/evaluator at the Canadian National Music Festival - "MusicFest Canada."

Crain is a Past President of the Texas Bandmasters Association, Alpha Chapter of Phi Beta Mu International Bandmasters Fraternity, and the Texas Music Adjudicators Association. He has served as Executive Secretary of Phi Beta Mu International Bandmasters Fraternity since 1977 and as the Coordinator for the National Concert Band Festival for Bands of America held in Chicago and Indianapolis since 1991. Also in 1991, Crain was appointed to the Board of Directors of the Midwest International Band and Orchestra Clinic, the largest music education event in the world. The Texas Bandmasters Association honored Crain by selecting him as the 1994 "Texas Bandmaster of the Year." Also in 1994, the National Federation of Interscholastic Music Associations named Crain as the recipient of the "Outstanding Music Educator Award" for Texas, and in 1995, Crain received the national "Outstanding Music Educator Award" from the NFIMA. In October 1994, Crain was appointed as the Executive Secretary for Music Activities for Region IX, Texas University Interscholastic League. For over thirty years, Crain has been a co-sponsor of the meetings of the Fellowship of Christian Musicians during the annual TBA convention in San Antonio, Texas. In 1974, Crain was selected as "Man of the Year" by the Belton, Texas Area Chamber of Commerce. He has continued to be active in community and church activities in Houston.

Audiences remember fondly his leading performances in educational and church musicals. His own favorite memory of conducting the Houston Police Department Band is the sound of their gun holsters hitting the chairs when they sat down!
Richard's comments about his 44 years in music education include the following: "In 1982, after 26 years as an active band director, I moved to the administration building of Spring ISD and became the first full-time music supervisor. I never got over the move, for I missed being around the students. As with all of us who have served in education, it is my sincere hope and prayer that I made a difference in some young person's life. It is my hope that through membership in band, the students learned the intangibles of leadership, discipline, the value of hard work, the setting of high standards and goals, and proper social interaction, as well as learning to play an instrument. I also owe much to many mentors I've had over the past 45 years. It would be impossible to name them all. I want to thank the staffs and administrators with whom I worked during my career and to whom I owe so much. I would like to acknowledge my wonderful parents, for instilling in me their faith in God, and my own family for their support through these very rewarding but very busy years. Last, I would like to thank my wife of 40 years, Gayle, without whose support, help, and love, none of these accomplishments would have been possible."