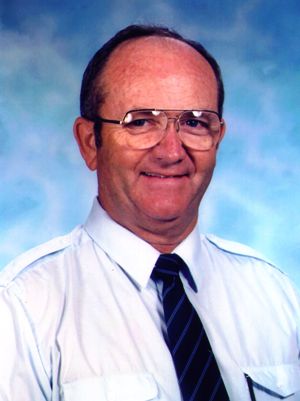 Digital Scrapbook
Dan Schreiber was a man of great character. With his infectious smile and friendly manner, he made those around him laugh with his jokes and funny stories. Many times, the funny stories were about his own experiences. It was through these funny stories that he taught his children, both biological and otherwise, how to approach life and truly live.

Daniel Kirk Schreiber was born in Hammond, Indiana, on September 11, 1935 to Wilbur J. and Dorothy Slavin Schreiber. Growing up on the family farm instilled basic, simple truths in him and fostered his can-do attitude. The ability to figure things out and fix just about anything stayed with him his entire life. From tinkering on tractors and cars to fixing music stands and airplanes, Dan believed he could set things right. His ability to work on things was not limited to only mechanical items as he was an excellent communicator and teacher.

In an effort to pursue his love of music, Dan left the family farm in the Rio Grande Valley to study music in San Antonio at St. Mary's University. There he had the great good fortune to study under Pop Sturchio. During this time, he met his future wife, Shirley Geirland. They married in 1957. After finishing his undergraduate degree, Dan was drafted into the Army. While stationed in Maryland, their first two children, Daniel Patrick and Kathleen, were born. After two years in the Army, the Schreiber family returned to Texas and settled in Jourdanton where Dan was the high school band director for six years. During the six years in the small Texas town, Douglas and Dennis were born. In order for Dennis to receive the best possible opportunities, the family moved to San Antonio in 1966.

After directing for one year at Sul Ross Junior High School, Dan opened up John Jay High School where he directed for 24 years. He took a new school band program and shaped and molded it into an incredible powerhouse. His expectations and demands were high and at times seemingly impossible, but he worked in the trenches with his students and together they achieved great things. Dan always stressed the importance of playing from the heart and playing with passion. Yes, the technical aspects of music were vital, but the love and emotion being expressed through the instrument made the music transcend the notes on the written page. At times, he had to go to great lengths to pull this emotion from the students. He had a story for everything, and he relished the opportunity to tell his stories in order to make the music come alive. Being in Mr. Schreiber's band may have been challenging and demanding, but well worth any sacrifice because the kids knew their leader loved them and believed in them.

Success came in many forms for the "We Try Harder" Mustang Band as they achieved 21 Sweepstakes in UIL competitions. There are many other measures of Dan's success as his ex-students continued to visit and seek his advice even after they were married and raising their own families. He had the opportunity to reach several generations in some families of band students. He often said you knew you were getting old when you taught former student's grandchildren! Thousands of people were blessed because of their time spent with Dan. He taught so much more than music to so many people.

Sharing their Dad with so many other kids was not always easy for Dan's own children who sometimes felt they had thousands of other siblings. Someone with as much life to share as Dan could not be contained within one family. He had the ability to make a person feel special and unique. All of Dan's children have pursued their passions just like their Dad. Daniel Patrick is a State Championship Winning High School football coach; Kathy is a middle school English teacher; Doug is a doctor with his own private practice in Katy; and Dennis had held down his job at Handy Andy for over 12 years now. The children followed in their parent's footsteps of caring and giving back to the community by helping young people. Dan always credited his wife, Shirley, for the success of his children. He realized what a supreme sacrifice she made in order for him to be able to give so much of himself to others. It is a true statement that behind every great man is a great woman.

Their relationship was built on mutual respect and abiding love, faith and loyalty.
After 31 years of directing, Dan retired to pursue his lifelong dream of being a pilot. Never one to do anything with mediocrity, he earned his pilot's license and built his own hanger in which to park his 'Old Blue' airplane. The hanger became his new hang-out where he tinkered around, planted trees, paved a driveway, smoothed the landing strip and joined the local pilot organization. When the skies were clear and blue, he would fly to Hondo for lunch on occasion. Dan and Shirley often flew to Houston or Dallas to visit their children and eight grandchildren. 'Popo' as Dan was known to his grandchildren was a favorite. The kids would often crawl and scramble all over him trying to get into his pockets to see what he had for them.

One of his greatest joys was taking his grandchildren for a spin in his airplane. His ears would perk up and his eyes would brighten when any of the grandkids showed an interest in playing in the band. 'Popo' would say, "You would be good at the clarinet or French horn, but you see this peak in your lips? Well, you can forget about playing the flute. Besides, flute players are a dime a dozen. How about the oboe? You have a good ear!" Once a band director, always a band director.

On April 21, 1999, Daniel Kirk Schreiber died doing what he loved best, flying his plane. It is not easy to continue on after losing such an incredibly, larger-than-life person, but living life full speed ahead is exactly what he would demand of us all.
Dan Schreiber would be incredibly honored to know he was inducted into the Texas Bandmasters Hall of Fame. He never would have believed himself worthy of such an honor, but those around him know he deserves that much and more. Dan Schreiber touched the future through his love of music and his dedication to young people.