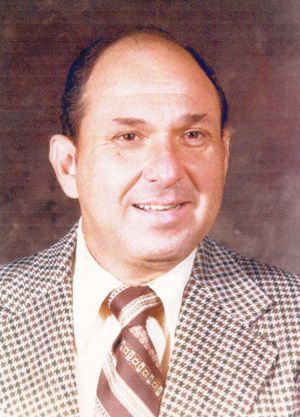 Digital Scrapbook
John Rodriguez was destined for applause and recognition at a very early age. He learned to play the cello and violin under the tutelage of his father and uncle, Adrian. By the age of seven, he had become an accomplished musician/performer and traveled with his troubadour family throughout the deep southwest.
He fell in love with the trumpet and begged his family to buy one. Despite the adversity of the depression years of the late 1920's, his family and friends accumulated enough redeemable coupons from a local flour mill to provide young Johnny with his first trumpet. Greater applause, recognition and awards soon followed.

Studying and performing regularly, John was dedicated to music throughout his formative years. Once out of the Navy, he entered college and received his Bachelor of Music degree from The University of Texas in 1948.

Johnny married Helen Amador in 1948, and in 1950 Roland was born, followed by Gerald six years later. Another six and seven years later, came Rosina and Melissa.

In 1951, earning $300 per month, Johnny re-enlisted into the Air Force as a staff musician at Kelly Air Force Base. He was discharged in September of 1953, the same month he began his career as band director in Asherton, Texas. He continued his education and received his Master's degree in Music Education in 1955.

After a stint with C. Bruno and Sons Musical Instrument Company from 1956 to 1958, he returned to teaching at James Fennimore Cooper Junior High School. Finally, in 1964, he was chosen to be the high school director of Sidney Lanier High School, the very same school he attended as a teenager.

He had arrived at this place with zeal and determination to make his alma mater band a group of noteworthy musical excellence. In 1970, the Band secured its first UIL Sweepstakes Award. The vast Westside community swelled with pride when the Lanier Band marched. John was regarded as a top-notch educator and was called upon by many other music teachers to help advise, critique and judge in music competitions and performances. He did this and much more gladly and oftentimes, without pay. Sharing knowledge and techniques was his way of giving back to the community what it had given him: praise and recognition.

John's dedication to music was matched only by his devotion to God, family and his students, and he has left us all the richer. He played trumpet and violin as passionately as he lived life, and while he was not an outwardly affectionate person, one could hear his true heart in his playing. Above all, Johnny had a self-depreciating sense of humor which endeared him to brother musicians, students and co-workers alike.

He never spoke ill of a fellow musician, no matter how poor the effort. Rather than disparage, he would rather opt to offer praise and encouragement and even helpful hints. John C. Rodriguez was the consummate professional, both as a performing musician and as an educator. His legacy lives in the hearts and minds of those who knew him and played under his baton.

Johnny was once asked what was the hardest part of playing so beautifully. He pondered a bit and finally replied, "Making it look easy!" Today, Johnny is remembered not so much for his tremendous achievements, but for how easily he managed to do them with such grace, style and élan.