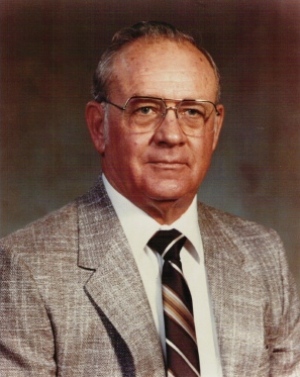 Digital Scrapbook
Richard Thomas was born in Tonkawa, Oklahoma, December 23, 1927. His family moved to Texas in 1939. He attended various public schools in Texas and graduated from high school in Colorado City. Following graduation, he joined the Army and was stationed in Japan for two and one-half years. His parents moved to Abilene while he was in the service, and he returned there upon discharge from the service in August 1949. Intending to get basic courses out of the way while he decided where to attend college and what career to follow, Richard enrolled at Hardin Simmons University.

Many of the friends he made that first year were members of the Cowboy Band, and through them he became acquainted with J. Dale Schoonover, French horn, brass and conducting professor as well as Dr. Macon Sumerlin, professor of music theory and composition. Both offered their help if he would major in music, and so by a quirk of fate, that is what happened. It would take a separate book to write of experiences with the Cowboy Band.

Richard graduated from Hardin Simmons in May 1952 and married Mary Frances Martin, better known as Fran. After a brief honeymoon, he started work on a Master's degree and accepted a job as band director, bus driver and general flunky in Roby for the fall of 1952. The second year of his stay in Roby, he and Fran were blessed by the birth of Richard, Jr., and more recently have been doubly blessed by the birth of Richard Jr.'s son, Trey.

Had he been smart enough to know how little he actually knew about running a band program, he probably would have quit, but he had a great bunch of kids to work with in Roby who were as naive as he. He also had many visits with a good friend from college, Maurice Jones, who at that time was band director at O'Donnell. During one of their visits, they planned at some Friday night game to have the band spell out – I QUIT – then head for Oregon to pick apples, but that never happened.

During Richard's third and last year in Roby, he took the band to UIL contest, and Mr. G. T. Gilligan of Kermit was one of the judges. Later that summer, he was offered the job as Mr. Gilligan's assistant and junior high director. He was certain that good friend, Gary DeShazo, an ex-Kermit student and also former Kermit band director, influenced Mr. Gilligan in that decision.

Richard planned to go to Kermit and work two or three years and learn from the man who many consider the father and pioneer of west Texas bands, and a man who was known and respected statewide. Mr. Gilligan and Richard got along so well and he enjoyed working with him so much that he stayed as his assistant for twenty-five years and would have continued until retirement had Mr. Gilligan remained as band director.

There were many great years with the Kermit bands and Mr. Gilligan. There were many wonderful memories of being in the field of music education, such as the time when the Kermit band was performing at UIL Marching Contest and a young lady fainted on the field. The band never missed a beat and just stepped over her and continued while Gilly and Richard went out to tend her. On another occasion, a young baritone sax player in the junior high band, with a horn as big as he, was so nervous he was honking like a goose. As the band was going to the stage, Gilly conveniently broke his reed!

Richard remembers going to TBA in the early days when there might have been 400 registrants, and it was really like a big family get-together. He also remembers the hilarious TBA golf games with DeShazo, Jones, Charles Trayler and others. In addition, he remembers the many really wonderful band directors he met along the way, most of whom were always willing to help when it was needed. Most of all he remembers the students who, through the discipline of band, worked together, had pride in themselves, their school and their community and became useful and productive people in all walks of life.

To have a parent thank you and say their child did not drop out but stayed in school because of the band program makes the many years worthwhile for Richard Thomas.