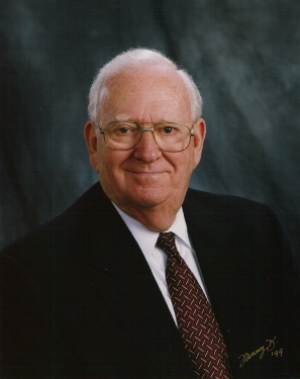 Digital Scrapbook
Jerrold Longwell was born on August 12, 1933, in Belleville, Kansas, to Alden and Frances Longwell. His band training started in Hamilton High School in Hamilton, Missouri. He was adept with the trumpet, and this helped him to decide on music education when he entered Central Methodist College in Fayette, Missouri.
It was during this time he met his future wife, Maudell, a fellow music major. They were married and graduated in 1955, both receiving music education degrees. Graduate school lay ahead at Texas Christian University, and Jerry became the band director at both Chico and Alvord High Schools while attending TCU. A two year stint In the U. S. Army was fulfilled by serving as a bandsman in the 1st Armored Division Band.

Fresh out of the Army, his first teaching job was at Justin, Texas. He was band director at Northwest High School from 1958 to 1961. He found the time to complete his Master's degree from TCU. Moving a few miles, Jerry became the band director at L. D. Bell High School in the Hurst-Euless-Bedford school system in 1961. In addition to consistent Sweepstakes awards, the band also won the Outstanding Concert Band at the old Six Flags Over Texas contest and at other invitational festivals. The L. D. Bell Band was selected in the top five of the Honor Band selection process three times. They were the Texas Honor Band of the Four States Bandmasters Association.

In 1969, Jerry began a new phase of his career, that as Director of Fine Arts with the H.E.B. school system, which was growing rapidly. He guided that growth into one of the premier school systems for fine arts, encompassing music, theater and art. During this time, he was elected as President of the Texas Music Educators Association in 1975-76 and served on the Executive Committee of TMEA for three years. He retired in 1986 and began a second career with New York Life Insurance, where he is currently a manager.

Jerry Longwell has served his music region as Band Chairman twice and Region Chairman twice, also serving as Region V Executive Secretary for four years. In his spare time, he served as Chairman of the first TMEA Symposium, as well as a member of the State Textbook committee; a member of the first UIL State Marching Contest Committee, a member of the Executive Committee of the Texas Music Adjudicators Association and helped to write essential elements for the Texas Education Agency.

Jerry and Maudell have two children, a daughter, Erin, who graduated from Stephen F. Austin State University and now teaches in Garland where she lives with her husband and three children. Son, Kris, graduated from Texas A & M and lives In New York City where he is pursuing a career in theater and working at McGraw-Hill Publishing Company.

Jerry has served his community well as a member of the Chamber of Commerce; founder of the Education Foundation; the H.E.B. Sports Hall of Fame Selection Committee; President of the Optimist Club; President of the Texas Wind Symphony Board of Directors and Vice-President of the Ft. Worth Youth Orchestra Board of Directors as well as numerous leadership positions in his church.

Jerry's incomparable use of humor has added so much to his leadership and he has defused many a difficult situation with a gentle nudge, a smile and a joke. His induction as a Charter Member of the Region V Band Directors Hall of Fame attests to the love and admiration of his fellow directors. Today's induction gives the entire musical community of Texas an opportunity to thank Jerrold Longwell for his abilities, knowledge, service, humor and smile. All of these attributes have served music and our state very well.