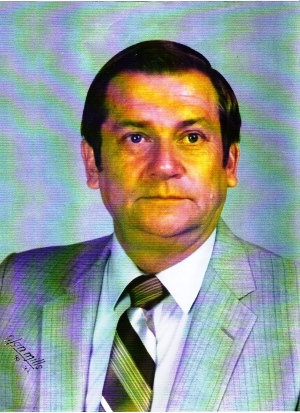 Digital Scrapbook
Avie Teltschik was born in Floresville, Texas, into a very musical family on February 13, 1935. His own music training began at the age of three with his father, Fritz Teltschik, who taught him to play the tonette.

Avie grew up to become an accomplished trumpet player. He performed many First Class solos at a very early age when other students his age were joining the beginning band program. With a father who was his band director as well as a strict disciplinarian, the incentive to practice was strong. While still in high school, Avie taught at the Texas Lutheran College Music Camp.

Upon graduation from high school, he attended one semester at Southwest Texas State Teachers College in San Marcos, and then transferred to The University of Texas in Austin where he completed the requirements for his Bachelor's degree in Music Education in 1957. While attending the university he continued to teach at the Texas Lutheran College Band Camp which enabled him to acquire credit towards his Master of Music Education degree from VanderCook School of Music in Chicago. He received his Master's degree from VanderCook in the summer of 1959. While attending the university, Avie was a member of the University Symphonic Band and the Austin Symphony.

1957 was a banner year for Avie. He graduated from The University of Texas, received his first teaching position and married Judy Carson. His first teaching assignment was in public school music at Port O'Connor as well as junior high band in Seadrift. Being an instrumentalist and having to sing in class all day led to months of hoarseness, but he managed to survive by using a little sign language.
From 1958-1960, Avie taught the Travis Junior High Band in Port Lavaca, Texas. From there he moved to Mercedes High School where he was band director from 1960 to 1969. The family often thought of Mercedes as being the ham in the sandwich. To the east of Mercedes was La Feria, under the direction of Don Fleuriet. La Feria was a consistent winner in Honor Band competition. To the west was Weslaco, under the direction of Marion Busby, another Honor Band winner. Thus began the challenge to mold Mercedes into Sweepstakes honors.
Many extra rehearsals, sectionals, sign up sheets for private help and even Saturday morning practices were necessary, but Mercedes became a Sweepstakes band and continued so for the next eight years. The Band also entered in Honor Band competition and placed in the top five, and one year came in second in the AAA class. Mercedes could and did compete.

In 1969, Avie moved his family to Kerrville in the Hill Country where he was band director there until retirement in 1992. As always, with Avie being the perfectionist that he was, the rehearsals and sectionals became routine. For the next twenty-two years, Kerrville Tivy band was a Sweepstakes winner.

During his 35 year career of public school teaching, Avie's bands received thirty Sweepstakes awards. He constantly strived for perfection which is exemplified in his UIL record. Avie was also a qualified UIL adjudicator in all areas: marching, concert, sight-reading and solo and ensemble. He was a member of the TBA board and served as President of the Texas Bandmasters Association in 1972.

Avie was a long time member of Phi Beta Mu and the Texas Music Educators Association. He was also active in several dance bands, one of which was the Sentimental Journey Orchestra of Kerrville, which specialized in the Big Band sound.

Avie was a very active member of Zion Lutheran Church where he served on the Church Council, the Board of Education, and sang in the church choir. He and his wife had four children, Deanna, Jim, John and Laura.

Avie Teltschik was a man of impeccable character and integrity and had the highest of morals. He was also there for his students when they needed someone to talk to or to just listen. His students knew they were treated on an even level regardless of who they were. For this he was greatly respected. He set an outstanding example for his students as well as fellow band directors.

Avie Teltschik left this world on July 10, 1997. He will always be remembered as a wonderful husband, father, and friend to everyone.