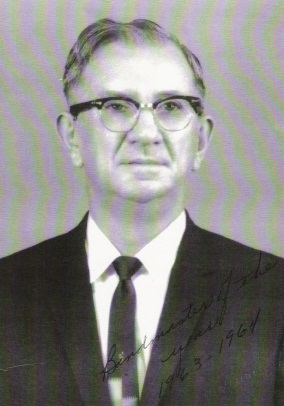 Digital Scrapbook
Frederick (Fritz) Teltschik was born in 1893 near Wierner, Texas. He was the first child of the Joseph Teltschik family to be born in the United States.
He was taught to play the violin by his older brother Henry. At the age of twelve, Fritz and his brothers organized the Teltschik Dance Orchestra. They played for weddings and other celebrations in the Floresville, Texas area.

From 1921-1926, Fritz served as director of the Floresville City Band. The band became the Floresville Tiger Band in 1932 and played for county fairs, city functions and high school football games. In 1926, Fritz organized the Floresville Junior Orchestra which was composed of his private students.

The Floresville School Band was organized in 1937 under the direction of Fritz Teltschik, assisted by the Rev. R. K. Heacock. In that 30 piece band, there were nine of Teltschik's nieces and nephews. He became known as "Uncle Fritz" to that band and later to school musicians and directors throughout the state. His son, Avie, and two daughters, Lorene and Minifred, were also members of that band. In 1941, the Floresville School Band officially became part of the Floresville school system.
"Uncle Fritz" also organized the Teltschik Family Band. The band still performs at the Wurstfest and for family reunions here in Texas and in Germany.

In 1939, "Uncle Fritz," along with five other south Texas directors, started intercity band clinics, a forerunner of the All-District, All-Region and All-State Band concept. In 1942, he helped organize the VanderCook Band Camp in Seguin and served on the camp's faculty for fifteen years He received his Bachelor of Music degree from the VanderCook School of Music in Chicago in 1955.

The Floresville School Band received personal proclamations from Governor Coke Stevenson in 1943 and 1944 for selling the most War Bonds at their monthly Victory Concerts. In 1947, "Uncle Fritz" was honored by being elected a lifetime member of the Gamma Phi Chapter of the Phi Mu Alpha Sinfonia fraternity at Southwest Texas State College in San Marcos. The Floresville Band was chosen to lead the Inaugural Parade for Governor John Connally in Austin in 1963.

During his 27 years as director of the Floresville School Band, his bands received eleven Sweepstakes, 85 First Divisions, and individual members received 400 First Divisions. His band marched at the very first band contest at Alamo Stadium in San Antonio, Texas.

After graduation from high school, many of his students continued their band participation in college and other band organizations. Six became band directors. Two were his own children, Avie Teltschik and Minifred Teltschik Aoueille.

Fritz Teltschik retired in 1964 after 54 years of teaching music. That same year, he was honored by the Texas Bandmasters Association as Bandmaster of the Year. Fritz Teltschik died November 8, 1983.

He was known for his wit and humor and his jocular showmanship. Using his own words, "He never knew a stranger." He was a friend to all. He gave over 3,000 children a love and appreciation for music. His influence is still being felt by those who knew him. The band hall in Floresville, Texas, bears his name, THE FRITZ TELTSCHIK BAND HALL. The band hall at Tivy High School in Kerrville, Texas, bears the name of his son, THE AVIE TELTSCHIK BAND HALL.