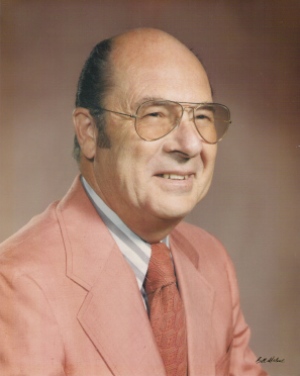 Digital Scrapbook
Vincent Rairden DiNino was born in Manhattan, Kansas, on October 25, 1918, to Frank V. and Leah Rairden DiNino. His mother was a Kansas-trained concert pianist and played for vaudeville and silent movies. His father, born and educated in Italy, immigrated to the United States as a professional clarinetist and had a varied career playing with concert bands and orchestras for vaudeville and movie houses before talking pictures came into being. Although he wasn't quite "born backstage," Vincent's earliest family recollections were related in one way or another to public musical performance. Vincent was reared by his grandparents until the age of eleven when he joined his parents in Ely, Minnesota, where his father was now the band and orchestra director for the public schools and the City of Ely. His mother was a teacher of piano and organ.

During his high school years, Vince experimented playing a variety of instruments. It was also during this time that he formed a dance band for both musical and financial reasons. The group played for high school dances and later for Slovenian and Finnish wedding receptions, some of which lasted for several days. This is where he learned that a musician is obligated to play the kind of music for which he is being paid to play, or the curtain on his playing career will close very fast.

Vincent had no intention of majoring in music at the University of Minnesota. He was eventually lured into the concert and marching bands directed by Gerald R. Prescott and the university symphony directed by Abe Pepinsky. He studied French horn with William Muelbe, the first horn with the Minneapolis Symphony Orchestra who was responsible for Vince's playing with that orchestra from time to time under the direction of Dimitri Mitropoulos. During the summers, he played French horn with a professional park band in Minneapolis and trumpet and saxophone in local dance bands. It was during this time that he received his Bachelor of Science degree in Music Education.

During his junior year at the University of Minnesota, Vince married Jane Audrey Dahlgren, a fellow student and his high school sweetheart. She has been his most loyal supporter for almost 59 years.

During World War II, Vince was drafted into a machine gun and mortar division of the Army; however, it was not long before he was transferred to a permanent assignment in the regimental band stationed at Camp Roberts in California. During this time, he got to play for a variety of professional entertainers including Red Skelton, He even had a "saluting" acquaintance with many a distinguished colonel and general, with one of his favorites being General "Vinegar Joe" Stilwell.

After leaving the Army, Vince played professionally in the Los Angeles and New York areas with dance bands, studio bands and recording bands, such as those of Dick Stabile, Johnny Richards, Skitch Henderson and Boyd Raeburn. Even then, he could see that the opportunities for a playing career were rapidly diminishing. All of this, coupled with an innate compulsion to earn a living found him in pursuit of an advanced degree and a career as a band director. He received his Masters degree from North Dakota State University and did other graduate work at the University of Michigan and The University of Texas at Austin.

His teaching positions prior to coming to The University of Texas at Austin in 1955 included Lake Mills, Iowa; Bad Axe, Michigan; Blythe, California; Assistant Director at the University of Minnesota; and from 1948-1955, he was band and orchestra director and Music Department Chairman for the Alexandria, Minnesota, public schools.

When Vince came to The University of Texas in Austin, a new era of bands opened up. He was to the band program at the university what Darrell Royal was to football. The first challenge he had was to sell the band directors of Texas on the Longhorn Band. This was a real problem since most of the band directors of the state had earned their teaching credentials from other schools. Vince did most of his first recruiting by visiting high school principals and getting them to recommend good students for possible membership in the Longhorn Band. His perseverance paid off and it was not long before the Longhorn Band had a membership of 300 students and became a nationally recognized organization.

During his twenty years as Longhorn Band Director, the band made 17 bowl game performances. The Longhorn Band and Michigan Band are the only major university bands to perform at the Super Bowl. He led the Longhorn Band on a tour of Peru; led the Longhorn Band as the Honor Band in the Fiesta Flambeau Parade for 20 consecutive years in San Antonio; performed at the inaugurals of John Kennedy and Lyndon Johnson; and played for numerous Texas Governor's inaugurals. In addition, the Longhorn Band made many recordings which he produced and conducted.

Many of the ideas that Vince introduced with the Longhorn Band have stood the test of time and are very much a part of today's performances. He introduced March Grandioso, which still gets the orange blood pumping, as well as March of the Longhorns and The Wabash Cannonball, which are still crowd favorites at the UT athletic events. During this time he also wrote many articles for the INSTRUMENTALIST and SCHOOL MUSICIAN magazines, as well as a book entitled MARCHING BANDS THROUGH "THE EYES OF TEXAS."

Mr. "D," as he is affectionately called by his students has been elected to some of the most prestigious organizations including The American Bandmasters Association; Who's Who in Music; Texas Cowboys; Silver Spurs; Admiral of the Texas Navy; ASCAP; Beaded Belt Society, and the Longhorn Hall of Honor in 1996, an honorary organization of the athletic department at UT. His greatest legacy is in the high esteem in which he is held by his former students. He rarely forgets a name or face. Many of his former students have maintained contact through the years. In fact, just recently, he had a former student from Michigan who played in his band in 1943 visit him at his home in Fredericksburg. He holds the title of Professor Emeritus at The University of Texas and has conducted a UT Band for 43 consecutive years and is shooting for 50!