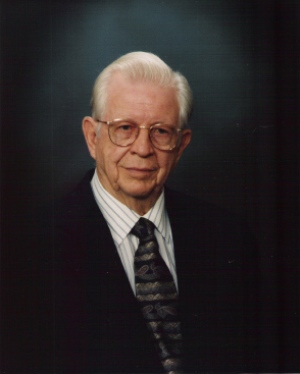 Digital Scrapbook
Some families are just musical, and if you have a name like Wadenpfuhl, the odds are that if you ever learn to spell it, you will probably be musical also. Today we honor one of those Wadenpfuhls.

Karl Hubert Wadenpfuhl was born November 26, 1921, in New Orleans, Louisiana, to Jacob Wadenpfuhl, a public service worker, and Alma Klos Wadenpfuhl, a public school teacher. Karl has a younger brother, Ray, who is a band director in Beaumont, and one sister, Alma Wadenpfuhl Weber, who also is a teacher. Karl married Lottie Starnes in 1944 and three years ago, they celebrated their Fiftieth Anniversary. Lottie, also a musician, was until her retirement, a choir director, pianist and accompanist. The Wadenpfuhls have four children, and would you believe it, all are musicians!

Kathy, the youngest and only daughter, served as a band director for many years and now teaches flute and theory classes in Lamar University. Ken, the youngest son, is principal horn in the Ohio Chamber Orchestra; Jay plays French horn and holds the third horn position in the Boston Symphony Orchestra; and Karl Jr. is a trumpet player and the high school band director at Port Neches High School. In addition, Karl's brother, Ray, has a son, Ray Jr., who is now a band director in the Houston area.

Karl started his music career in the eighth grade in a rather unusual beginner band program. Werlein Music Company of New Orleans sponsored the teacher, Mrs. Tisdale, to teach students to play various band instruments. Each student paid $1.00 per lesson and took sixty lessons in a class setting of mixed instruments. After the sixty lessons, the instrument the student had chosen was a gift from the music company. The class instruction left something to be desired. Students were expected to study by themselves from a method book and learn their fingerings, method of counting, pitch recognition and all aspects of playing. Then with Mrs. Tisdale at the piano, students were expected to follow along and play with the piano.

After the sixty lessons, students moved to the high school band which was taught by Dr. R. C. Edwards who also taught band classes at six different schools in Jefferson Parish. After graduation from high school at age 15, Karl attended J. A. Maybin Business School for one year. In 1938, he enrolled in Louisiana State University and became a member of the LSU ROTC Cadet Band. He received a Bachelor of Music Education degree as a trumpet player in 1942.

While in college, Karl was a member of the National Guard and played in the National Guard band. This band unit was drafted straight into the Army and most lost their lives in the Battle of the Bulge. Karl, however, decided he wanted to be a gunner on B-17s, and enlisted in the Army Air Force. After failing an eye exam, Karl asked his Captain if he could tryout for trumpet in the camp band. He was told he couldn't make that band even if he were Harry James, but Karl was persistent and got an audience with the band director who also reiterated the Harry James comparison. As it turned out, the band needed French horns, and Karl was soon bluffing his way through the first few bars of Oberon Overture. The job was his!
Karl did improve as a French horn player and served as principal horn in the Army Air Force field bands at Keesler Field, Mississippi, Smyrna, Tennessee and Blytheville, Arkansas. After being discharged in 1946, he accepted the high school band director position in Blytheville and remained there two years. He then moved to Orange, Texas, and became the junior high director for one year.

In 1949, Karl and Lottie moved to Kirbyville, a small AA school, and organized the band program there. This was to become their home, and Karl remained there until 1964. During those busy years, Karl found time to earn his Masters degree from Sam Houston State University in 1953. While in Kirbyville, Karl's bands were consistent UIL Sweepstakes winners, the TMEA Region Honor Band representative on those years when eligible and placed second in the State TMEA Honor Band selection two times and placed third once. His band also received the Outstanding Band Award at Six Flags Over Texas as well as the Outstanding Band Award at the prestigious Buccaneer Music Festival at Corpus Christi in 1961.

Although only class AA, the Kirbyville band was noted for playing the most difficult music selections on the UIL list. The band was also very much admired for its superior marching performances. Their exceptional marching capabilities were due mainly to Karl's Army background, his very capable teaching methods and his creative ability to write interesting and innovative drills.

In 1964, Karl's outstanding teaching ability landed him the position of Assistant Director of Bands at Lamar University where he would teach with the late C. A. "Pete" Wiley. During his six years at Lamar, Karl attended McNeese University in Lake Charles where he received his doctorate in Secondary Education in the spring of 1970.
During the fall of 1970, Karl and Lottie returned to the failing band program in Kirbyville and restored the program to its previous status with six consecutive UIL sweepstakes and the Outstanding Band Award at the Buccaneer Music Festival. In 1978, Karl started a new business as owner and operator of a music store where he remained until 1987 when he sold the store and officially retired.

Karl's service to music education is bountiful as he has served on many committees including the TMEA Music Advisory Committee, the Band Music Selection Committee, Chairman of Region XII and member of the TMEA Board of Directors, the TMEA Agenda Committee, and the 1977 TMEA Symposium. He was State Chairman for the National Band Association and is a much sought after judge and clinician.

His professional affiliations include Kappa Kappa Psi, Phi Mu Alpha, Kappa Delta Phi, Phi Beta Mu, TMEA, TBA, and membership in Lions Club International. In 1977, Karl and wife Lottie were named Outstanding Citizens for Service to Youth by the city of Kirbyville, a tribute to almost thirty years of service to that community.

The Wadenpfuhls are now retired and busy themselves taking care of their three acre homestead in Kirbyville, playing a little golf, taking care of a young stray pup, two cats, Puffy and Honey, who pretty well rule the house, and over a thousand Japanese Koi and Veiltail Comet goldfish. Even Harry James couldn't have done better!