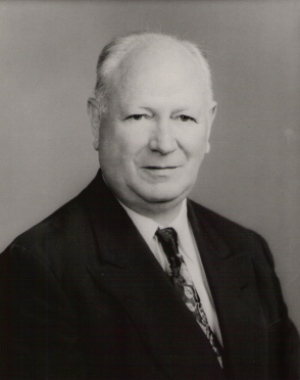 Digital Scrapbook
Raoul Albert Emil Dhossche, known by most as "Ralph" was born in Nantes, France, on December 16, 1896, but spent most of his next ten years in Ghent, Belgium. Both parents were accomplished musicians with the San Carlo, Paris and Metropolitan Opera companies. A graduate of the Royal Conservatory of Belgium, Mr. Dhossche was a student of the internationally known flutist, August Strawn. Additionally, he studied in Paris at the Conservatory of Music.

Mr. Dhossche traveled with his parents between Belgium, France and New York during opera seasons until 1907 when his father's failing health required his return to Belgium. Upon his parents' insistence, Ralph remained in New York to pursue his musical career. He was never to see his parents again. During his tenure with the Metropolitan, he accompanied great artists such as Caruso. He also played with musical organizations in New York, Washington, D.C. and New Jersey. He traveled to California where he worked in silent movies with all the major stars of the time. He played with bands along the coast in California and was an organizer of a symphony for Hollywood productions. He also played with the Los Angeles Philharmonic.

Returning to New Jersey, Mr. Dhossche joined the Army 12th Cavalry. He was sent to the Mexican border with General Pershing the day after the raid by Pancho Villa's men in New Mexico. During World War I, he was promoted to Master Sergeant and became band leader of the 12th Cavalry Band which he directed for seven years. It was during this time that he had the pleasure of playing for John Philip Sousa and met Frank Goldman, Ignace Paderewski, Taylor Branson, Herbert Clark and Fritz Kreisler.

After discharge from the service, Mr. Dhossche returned to El Paso, Texas, and joined the Theatre Orchestra, the Civic Band and the Symphony. He married Lillian Parker of El Paso, also an accomplished pianist, who would serve as his accompanist over a span of many years. His first teaching assignment was in Del Rio, Texas. He opened many doors to the cultural world in that city and organized a municipal band in addition to his teaching responsibilities.

In 1925, he was recruited to Beaumont, Texas, to organize and direct the Magnolia Petroleum Oil Company Refinery Band. The Magnolia Band became known as the best refinery band in the nation. Under his direction, the Magnolia Symphony Orchestra was organized and as a sideline, he directed the Beaumont High School Band. When the Refinery Band was disbanded due to the Depression, he went to the city school system as a full-time employee and assumed direction of the high school band and the high school orchestra as well as local junior high organizations. During his tenure as band director, the Royal Purple Band became the states' Champion Band eight years in a row and won first place in the Texas Federation of Music Clubs contest.

One of his private students was Harry James who regularly kept in contact with Mr. Dhossche until his death. Mr. Dhossche also held the distinction as Director of the official State Band of Texas for several years and by special request was invited to Austin to play for the Governor of Texas. In 1938, "Prof Dhossche" as he was called, accepted the position of band director of the Main Avenue High School in San Antonio, later named San Antonio Vocational and Technical School, and later Fox Tech. He remained there until his retirement twenty-five years later in 1963. During those twenty-five years at Tech, Mr. Dhossche was actively involved in the Texas Bandmasters Association, Musicians Union, San Antonio Music Teachers Association and the San Antonio Bandmasters Association which he served as President.

As time permitted, he performed with the San Antonio Symphony directed by Max Reiter. For many years, he also gave private lessons to aspiring young flutists. He was active with the San Pedro Playhouse and worked with Jeanette McDonald during that time. He served on the faculties of St. Mary's University in San Antonio; Seguin Lutheran College and San Marcos Teachers College. For many years, Mr. Dhossche taught summer sessions for Prof. D. O. Wiley at Texas Tech University. He published Invocation, one of his numerous compositions, and it remained on the contest list for many years.

Those who remember Ralph Dhossche know he had a very heavy French accent, which only seemed to increase with the years. He always said that teaching at Tech High, a primarily Spanish-speaking student body, was easy because he didn't understand the students, and the students did not understand him, so they all shook their heads a lot! No immigrant was ever more proud of his American citizenship. He was an avid reader and knew the history of this country better than most native-born. He credited his citizenship as his greatest attribute in life, next to his wife and children. When a substitute teacher was needed in the history department, Mr. Dhossche was always called because he could talk from the heart, and the students loved it.

He was a man of great compassion, love, gentleness and genuine concern for his fellow man. It was not unusual for students to come to his residence after school and on weekends simply because he was fun to be with, and he took special interest in each and everyone. He was always very proud of the fact that a number of his students continued his footsteps in life and became band directors.

Following a lengthy bout with cancer, Raoul Dhossche passed away on July 26, 1971. He was preceded in death by his parents, a brother and a son, Victor. Two daughters, Rolande and Adrienne, are since deceased. He is survived by his wife, Lillian, of Smithville, Texas, and a daughter, Renee Dhossche Blaschke of Smithville, nine grandchildren and five great grandchildren.