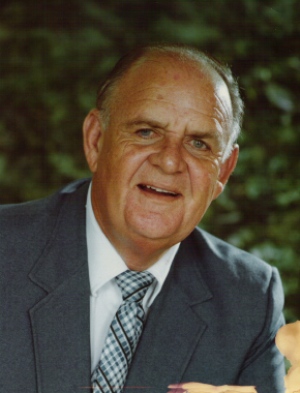 Digital Scrapbook
Doug Williamson was born in Cresson, Texas, on December 15. 1926. He graduated from Coleman High School in 1943 where his band director was Hall of Fame member, James E. King. He received a Bachelor of Music degree from North Texas State University in 1947 and his Master of Music degree in 1948.

Doug taught at Trinity University during the 1947-48 term and began his high school teaching career at Pleasanton High School in 1948. In 1950, he entered the Air Force where he was Chief Arranger for the Lackland Air Force Band of the West from 1950-51. He was then transferred to the United States Air Force Band in Washington D.C. where he served as Staff Arranger and Instructor in the Air Force School of Music. Doug was commissioned a Warrant Officer and was Band Leader at Sheppard Air Force Base in Wichita Falls, and Webb Air Force Base in Big Springs. Texas.

Upon leaving the Air Force, he returned to Pleasanton High School and served as band director from 1953 until 1976. While at Pleasanton, the band participated in the Cotton Bowl halftime in 1957. The band also participated in SMU pre-game shows in 1972 and 1975. In 1960, the Pleasanton High School Band placed fourth in state TMEA Honor Band competition. Doug's bands at Pleasanton won 19 Sweepstakes awards.

Doug next moved to Kirby Junior High School in the San Antonio Judson District from 1976 to 1984, where his bands compiled a record of 7 Sweepstakes awards.
After Doug's retirement, he began teaching privately and formed his own music arranging service. He arranged for the SMU Mustang Band from 1958 until 1983. He has also written for The University of Texas, TCU, Texas Tech, Southwest Texas State University and many high school bands.

Individual awards which Doug has received include First Vice-President and President of the Texas Bandmasters Association in 1955 and 1956; Teacher of the Year at Pleasanton High School in 1959; Citizen of the Year from the Pleasanton Lions Club in 1960; Distinguished Education Award in the Judson District in 1982; and upon retirement in 1984, the Distinguished Service Award.

Doug is a member of TMEA and a charter member of Texas Bandmasters Association and Texas Music Adjudicators Association. He has judged numerous contests since 1957.

In 1957, Doug married Barbara Mertz of Pleasanton, and they have a son, Doug Williamson, Jr. His latest public recognition award occurred on December 4, 1993, when Bobby Hurley, Mayor of Pleasanton, and a former student, proclaimed December 4th as Doug Williamson Appreciation Day.