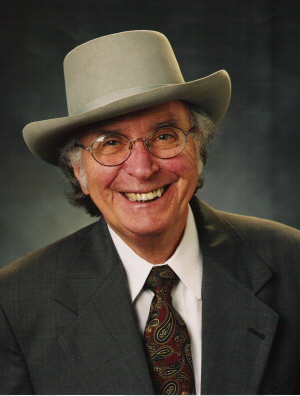 Digital Scrapbook
There is something special about LaFalco Robinson. You pick up on it the moment you lay eyes on him. It is in his smile, his gestures, and the look he gets in his eyes as he recalls the stories and students who have filled his life.

Corkey was born August 11, 1927 in Cooper, Texas where he attended elementary and high school. He learned to play saxophone and was a member of the high school band. When the band director went into the armed services, he became director of the dance band.

When he entered the University of Texas in September 1944, he auditioned for Colonel George E. Hurt and played in the Longhorn Band. This was a short lived endeavor as Corkey entered the U. S. Navy in 1945. He was fortunate to attend the Navy School of Music and was later assigned to a Navy dance band with service in the Pacific theater.

Following his discharge from the service in 1949, Corkey re-entered U. T. Austin in 1950 and graduated with a Bachelor of Arts degree in 1953 and a Masters in Music Education in 1956. He has since studied at Eastman School of Music in New York and the Royal Academy of Music in London. His first employment was with the Austin ISD as an itinerant instrumental music teacher in 12 elementary schools.
In 1956, Corkey became band and orchestra director at O. Henry Junior High School in Austin. Both band and orchestra won numerous First Divisions and Sweepstakes awards. He also directed the choir which included a production of a Gilbert and Sullivan operetta his last year at the school. The choir earned its first Division I at UIL that year.

Corkey transferred to Stephen F. Austin High School in Austin in 1961 where he was band, orchestra and stage band director for 27 years until his retirement in 1988. The SFA band was chosen by Governor John Connally to represent the State of Texas at the Mardi Gras in New Orleans, and the band, orchestra and stage band performed for numerous events in the Capitol complex. Corkey had the unusual distinction of playing for the dedication of Interstate Highway 35 which today is one of the busiest thoroughfares in the nation.

The SFA Stage Band was chosen as the first Austin musical organization to play for TMEA in 1983, and in 1984-85, the SFA Orchestra was named #2 in the state. The Stage Band was also chosen to play for the opening of Austin's Symphony Square.
Corkey is a member of Phi Beta Mu and a founding member and former president of TODA. He was also chosen by TODA as Orchestra Director of the year in 1985. His composition, Spiritual and Hallelujah, won first place in the Texas Orchestra Directors Composition Competition. He served as conductor for seven musicals at the Zilker Hifiside Theater in Austin. Governor Dolph Briscoe even named him an "Admiral in the Texas Navy."

In 1979, Corkey was voted Teacher of the Year for Austin High School, and he was a finalist in the Austin ISD competition. More recently, in May 1996, he was inducted into the Stephen F. Austin High School Faculty Hall of Honor. Dozens of letters by students and colleagues helped the committee to articulate just what it is that seems to make this man such a great success and guiding force behind the lives of many. According to one former student, "He was riot merely a teacher but a fine musician in his own right. He had the rare ability to communicate with young people, and it was this trait, and the knowledge that he deeply cared for each of his students as individuals, that made him so respected."

An ex-drum major compared Corkey's career to the recent movie, Mr. Holland's Opus. He wrote: "Mr. Holland was a great success and so were you.. He is a fictional character, but you are the genuine article." Corkey's students sensed his love for music and his sincere desire to pass that love along to them. His example and commitment to excellence led his students to inscribe a plaque dedicating the band hall to LaFalco "Corkey" Robinson.

Although he retired in 1988, Corkey has continued to write, substitute teach, judge, clinic and teach privately. During retirement, he has also continued to lead his dance band, Corkey Robinson and the Keynoters. For 43 years, he has been married to Barbara Tramel Robinson, and they are the parents of two children, Kevin and Beverly.

LaFalco "Corkey" Robinson is a man with a rare gift. He is a musician, conductor, composer, but first, last and always, a teacher.