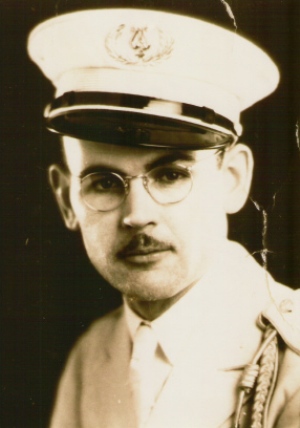 Carl Dean Shank, Sr. was born Carl Dean Shank on June 22, 1906, in Winona, Texas. He was the oldest of three brothers.

In 1915, an accident occurred which was to change permanently Dean's life. While riding a very tall "two-wheeler" bike, Dean fell and had a compound fracture of his right arm. Subsequent medical help was not the best, and the arm was set too tightly which resulted in a severe case of gangrene. In order to save Dean's life, the right arm had to be amputated just below the shoulder.

Dean's father was determined to turn this tragedy into victory for his son, so he set about finding ways for Dean to accomplish many tasks that normally were reserved for people with the full use of both arms. Dean took private piano lessons from a local music teacher who transcribed piano music for both hands into one-handed versions.

From the piano, he graduated to the cornet. Since there was no band at Winona at that time, he took lessons from Doe Wilt at Tyler College. Just after graduating from high school, Dean joined the pit orchestra of the then-renowned Palace Theater Orchestra in Dallas. Unfortunately another accident limited his trumpet playing career when he was pushed head first into the shallow water area of a Dallas swimming pool severely cutting his upper lip. Even after the lip healed, his trumpet technique never completely returned due to some permanent muscular damage.

Around 1922, twenty year old Shank, with only a high school diploma and a few college credits, began his first professional job as the band director of Rusk College which was one of the early colleges founded by the Baptist Church. As a young man, Shank most admired Everett McCrackin, the band director at Baylor University, where Shank had attended some classes. Another inspiration for him was Ward Brandstetter, the band director of a dynamite public school band program in Palestine.

At this time, Trinity University was located in Waxahachie, Texas, and Dean enrolled in some classes there and eventually became director of the Waxahachie High School Band. In a few short years, he brought the band membership from near zero to an awesome 120 members which was an unheard of size for a public school band in the early 1930's. Under his leadership, this band became renowned for repeatedly taking top honors in regional and state competitions. He guided the Waxahachie band program to the National Championship in the mid 1930's and became personally recognized for his own teaching ability and musicality.

Dean also was remembered fondly for what was then considered a very casual, informal way of dealing with his students. The late Frank Erwin, renowned Austin attorney and former Chairman of the University of Texas Board of Regents, recalled writing in an instrumental part: "Dean says play louder than Hell here." Such a quote caused a slight concern on the part of some members of the local band boosters club. Erwin himself became one of Dean's top student conductors and won top prizes at regional competitions. One judge's criticism of Erwin's conducting was that he "tried to do everything with only his left arm." On another occasion, one of Dean's students remembered during a marching band inspection having his uniform cuff lifted to reveal a badly torn black sock exposing bare skin. Depression times were hard, and the student probably couldn't afford to buy new socks. "What are you going to do about that torn sock, son?" asked Dean. Before the embarrassed student could answer, Dean bellowed, "You're going to paint your leg in that area with black shoe polish, aren't you?" Everyone laughed.

In 1939, the Mexia Public Schools, which had greatly admired the Waxahachie program, hired Shank away from Waxahachie in hopes of building an even better band program than that previously directed by Texas Bandmasters Hall of Fame member Clint Hackney, who had resigned to take the Sam Houston State College Band program. Shank disappointed no one, and within two years, Mexia won the National Championship in St. Louis.

Disgruntled over Shank's replacement and hoping to regain their lost fame, Waxahachie persuaded Dean to return. However, to Shank's disappointment, the band had deteriorated badly. While in the process of rebuilding the program, the State of Texas passed a law stating that "to teach in the public schools of Texas, all teachers must be certified with a college degree." Dean strongly objected to the new law and refused to return to school to finish his teaching degree. He stated that "getting a degree at this time would not help me teach one bit better."
Consequently, in 1944, Shank left the teaching field and settled briefly in Jacksonville where he was a partner in Newton-Shank Manufacturing Company, one of the largest basket-making factories for the flourishing tomato business of that area. After his son, Carl Dean Shank, Jr., was born in 1945, the family moved to Center, Texas, where he started the Center Plywood Company. This company later was sold to Curtis Mathes. To expand his business venture, Shank soon received his pilot's license and flew all over the United States in his private airplane. He became so recognized in the exotic wood veneer business that every cabinet housing made by RCA Electronics had to be routed through him. In 1964, the family moved to Denton where his son completed high school and was an All-State Timpanist in the Denton High School Band.

Dean Sr. died on January 13, 1979, after a brief illness. He never lost his interest in music nor his sense of humor. His family fondly recalls finding a little tag in one of his hats which read: "LIVE, LIVE! LIFE IS A BANQUET, AND MOST OF YOU SUCKERS ARE STARVING TO DEATH." He was survived by his wife, Kathryn Davis Shank, who remained in Denton until her death in January 1984. His two brothers, Earl and Roy, are now retired from their businesses and still live in Jacksonville. His son completed undergraduate and masters degrees in piano performance at the University of North Texas and a doctorate at The University of Texas. He currently is a member of the Shepherd School of Music artist piano faculty at Rice University in Houston.