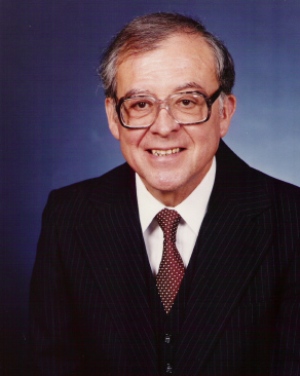 Pete Rodriguez was born February 24, 1929, in Brownsville, Texas. He received his early musical training from his father who was a member of the 12th Cavalry Band stationed at Fort Brown who also taught at St. Joseph's Catholic School. His father gave him clarinet lessons and Pete helped care for the horse assigned to his father. (The Cavalry Band rode horses while playing their instruments, and they practiced their drills and marched in parades on horseback.)

From Brownsville, Pete moved to El Paso where he attended public school and was a member of the elementary school band and orchestra and participated in the All-City Band. He often sat in during rehearsals with the military band his father directed. He continued to study with his father until the Cavalry units were combined into the 1st Cavalry Division Army Band and were shipped overseas during the war.

In 1943, Pete and his family moved to Longview, Texas, and there he attended Foster Junior High School and Longview High School. He played 1st Trumpet as needed during marching season and 1st Clarinet during the rest of the year. While still in high school, he began playing dance jobs and worked with several local groups. He entered Solo and Ensemble contest, then sponsored by TMEA, and received superior ratings each year.

In 1947, Norman White, a Texas Bandmasters Hall of Fame member, served as organizer for the All-State Band. Pete tried out and made the All-State Band, but unfortunately his father passed away, and his burial was on the day the All-State Band began. His director, Ellis Wood, and Mr. White encouraged Pete to participate in All-State in spite of the circumstances, and his mother agreed. Pete attended his father's funeral that morning, and Mr. Wood drove him to Galveston where Mr. White allowed him to resume his place with the band. He graduated from Longview High School in 1947. He received a Phi Mu Alpha music scholarship and attended North Texas University where he studied with Lee Gibson.

In 1948 Pete enlisted in the Air Force and after completing basic training, he was stationed at Reese Air Force Base in Lubbock. During the four years that he was stationed in Lubbock, he directed the Air Force Dance Band and also had the opportunity of working with many fine professional musicians in the West Texas area. He participated in the Texas Tech summer band camps and played clarinet with the Lubbock Symphony.

Pete entered Stephen F. Austin State University in 1952 and completed his degree in 1954. He taught band at Rusk Junior High School and Timpson High School while working toward his degree. After graduation, he worked at Longview Junior High and Longview High School for three years; Hawkins High School for five years; Lancaster High School for eleven years and Bryan High School for twelve years. His bands consistently received First Divisions at UIL Marching, Concert and Sight Reading Contests. They also entered and were winners of other competitions such as the Tri-State Music Festival, Buccaneer Music Festival, Six Flags Festival and numerous parades. His marching bands made three performances for the Dallas Cowboys halftime and two performances in the Cotton Bowl. His stage bands at Lancaster entered various contests and were always one of the winners at the prestigious Brownwood Stage Band Festival. Pete taught summer band camp at Stephen F. Austin University for 28 years.

Pete always wrote special arrangements for his bands. He studied arranging and composition with Fischer Tull and Gene Hall and received his Master of Fine Arts from Stephen F. Austin State University.

Pete retired in 1985 after 34 years of teaching. His last position before retirement was Supervisor of Music, Grades K- 12 and Band Director at Bryan ISD. Pete has served as clinician and adjudicator throughout the state. He was a charter member of the Texas Music Adjudicators Association and the National Jazz Educators Association.

In addition to his teaching career, Pete has always played professionally. He played with Durward Clime for many years and with Joe Reichman and other Dallas area bands. He has also played clarinet with the Shreveport, Lubbock, East Texas and Brazos Valley Symphonies. After retirement he has continued writing arrangements for his dance band.

In 1986, Pete Rodriguez was elected to the Stephen F. Austin State University Hall of Fame and currently serves on the Music Department Alumni Board. A few years ago, he organized the Bryan Community Band. Since 1979 he has served as Executive Secretary of UIL Region 8. Presently, he is teaching woodwinds for the Brenham School District.

Pete and his wife, Mary, were married in 1952. They have a daughter, Denise, who lives in Houston with her husband and two daughters, and a son, Pete Rodriguez, Jr., who lives with his wife in Bedford.