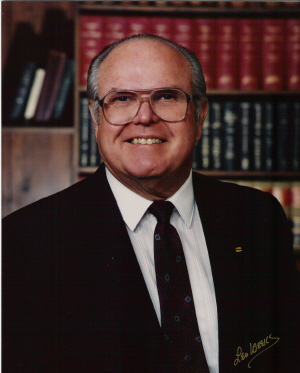 Blanton McDonald was born April 27, 1927, in Livingston, Texas. His parents moved to the east Texas oil field during the early thirties. His father worked for the Exxon Oil Company. All six McDonald children were encouraged to take instrumental music and were in bands at Rock Mountain and London school districts. All attended college with two receiving degrees in music, two in engineering and one in architecture.

Blanton began his career in music at Rocky Mountain ISD with private lessons on the violin. There were many problems with private violin lessons, and in 1936, when little progress had been made, Blanton's parents consented for him to join the newly formed band under their first director, Paul Stroud. Blanton graduated from London High School in New London, Texas, in 1945. After graduation he served in the U.S. Navy for one year at the close of World War II.

Upon release from his service duties, he entered VanderCook School of Music in Chicago. During these years, he was featured a number of times as a soloist with the VanderCook Band, local high school bands, and the Business Men's Symphony of Chicago. Blanton graduated from VanderCook in 1950 and moved back to east Texas to take his first band director's position in Royce City. After serving a second assignment in Plano, Blanton accepted the band director's job in Center in 1955 and decided to enroll in a Master's degree program at Stephen F. Austin State University due to its close proximity to Center.

After completing his Master's degree in music, Blanton taught in several communities in east Texas including Daingerfield, Mt. Pleasant and Kilgore. In 1968, Blanton accepted the band director's position in Nederland. Following nineteen years of teaching there, he retired with a total of thirty-six years service to the band profession.

In the course of this long career, his bands garnered 32 First Divisions in UIL Concert and 28 First Divisions in UIL Marching. On six occasions, Blanton's bands were selected as TMEA Region Honor Band; they were rated First Division at Six Flags Over Texas for 8 years and compiled a 5 year record of First Divisions at the Buccaneer Music Festival and were runners-up in AAAA Concert Competition at Buccaneer.

Blanton "Mac" McDonald is another one of the great "legends" in east Texas and is held in the highest regard by his peers for his expertise in the profession of band directing. He is also known to be fair, honest and totally impartial in his judgments.
Blanton's life reflects these same standards. His high moral standards and strong ambition to "do things right" the first time; to be honest and sincere in his dealings with people, and to exemplify good citizenship at all times, have led many of his former students into the band profession.

He has been active in the National Association of Military Marching Bands since its formation in 1979. He served as President of this organization for two years and is presently Contest Chairman. He is a member of Phi Beta Mu International Fraternity and is a member of his local Masonic Lodge.

Blanton retired in 1986 and resides with his wife, Barbara, at Toledo Bend Lake, near the small community of Burkeville, Texas. His family includes son, Johnny McDonald, and daughter, Debbie Hatton.