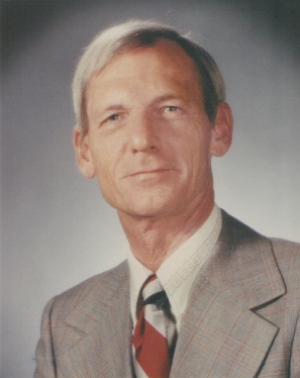 Digital Scrapbook
Fred Prentice was a man of diverse talents - pianist, organist, vocalist, trombonist, trumpeter, a student of history, human nature, psychology, and of education. He was born on April 10, 1923 in Tulsa, Oklahoma and started band there. With the piano his emphasis, Fred's early years aroused a curiosity about music. As Fred liked to say, "When I played the piano at 8 years of age, the girls came and sat on the piano bench with me." He did win an All-City contest playing the harmonica at age 10. By age 12, he was playing the trumpet and was the official bugler at Boy Scout camp. Fred and fellow Hall of Fame member, Bill Dean, were in band together in the seventh grade. By age 14, Fred had moved to Kansas City, Missouri and the harmonica became his medium again, winning another All-City contest at age 14. One year later, he recorded "Rhapsody in Blue" with full orchestra. Fred later moved to Lincoln, Nebraska, where he graduated from high school, and was also selected the Outstanding Male Music Student. Lincoln was also where Fred organized a boys quartet called the "Newsboys", and they appeared in many meetings and on radio six to eight times a month during those years. After high school, Fred attended Baylor University majoring in piano, organ, and voice.

Fred graduated from Baylor in 1949 and was looking for an orchestra job when a friend of his asked him to ride to Archer City where the friend was applying for a coaching job. When they returned, Fred had his first job as band director; his friend still had no job. From 1949 to 1953, the Archer City Band had four Sweepstakes, appeared at the Texas State Fair twice, and won "Best in Class" awards three times at the Waurika and Iowa Park festivals, and had six students make All-State.
In 1953, Fred moved to the oil fields of west Texas and produced seven Sweepstakes awards with the Rankin High School band (1953—1961), as well as winning "Best in Class" awards six times in Del Rio and three times in Enid at the Tri-State Festivals. Fred also became well known as a judge, especially as a piano specialist, as well as concert, sight-reading, and marching.

In 1961, Fred returned to the Red River country to Wichita Falls where he served as band director at Wichita Falls High School for eight years. He produced seven Sweepstakes bands while there. He then moved into administration as Music Supervisor for the schools. Fred later moved to Arlington where he supervised practice teachers until he retired completely because of ill health. His last move was to Phoenix, Arizona where the climate was more beneficial to him.

Fred was a member of many professional associations including TBA, TMEA, Phi Beta Mu, Phi Mu Alpha, and ASBDA. He served in every office of TBA, becoming President of TBA in 1961. He was sent by the U.S. Government and ASBDA to 13 foreign countries in 1959 to study their teaching methods.

A couple of years ago, Fred said, "My philosophy about teaching was very simple. Since all of my band experience was in very weak programs, including some in college, I worked out a good challenge for my role as a teacher. The Good Lord gave me many talents, so I said give the students everything you have to offer. Make a place for all students, weak or strong, to feel they belong, and all are important."

Fred Prentice passed away on May 13, 1994 in Phoenix, Arizona. He is survived by three children; Dr. David Prentice of Houston, Junellen Simons of Phoenix, and Christopher Prentice of El Paso. One granddaughter, Brianna Simons resides in Phoenix.