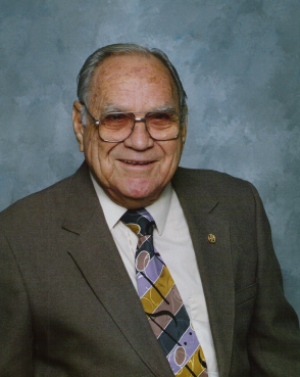 Ed Cannan, son of Walter L. and Mary Cannan, was born on November 15, 1915 in Laneville, Texas. His father was a Methodist minister, and the family moved quite often during Ed's childhood. Ed attended four different high schools before graduating from Cameron High School. He attended Southwestern University for two years from 1934-1936, and held his first position as band director for Georgetown High School during his sophomore year. The following year, in 1936-37, he was band director at Westminster College. In the fall of 1937, Ed organized the first high school band at Liberty, Texas. Ed was setting up chairs for the Liberty High School Band in front of the new Mercy Hospital in preparation for dedication ceremonies. There was a little lady raking leaves around the area, and Ed had noticed the flags and commented to her that that was something the newly organized band would need to acquire when the money could be raised. She asked Ed what kind of flags he would want and he told her an American flag, a Texas flag, and perhaps a school banner. She was very plainly dressed, and Ed did not take her seriously when she told him to order the flags and send her the bill. When the ceremony began, Ed was quite surprised to see the "little lady" seated in the center of the speaker's platform all dressed up wearing a beautiful corsage. He then learned that she was a very prominent person and donated the money to build the hospital. You guessed it..., very nice flags were ordered! While at Liberty, Ed started back to school at the Houston Conservatory of Music which was an accredited school at that time. He also attended summer sessions at the University Of Texas to take required academic courses. Ed has his B.M.Ed., B.M., and M.M. Degrees.

In 1939, Ed moved to Pasadena to serve as band director at Jackson Junior High where his bands received first division ratings in the old TMEA-sponsored region contests. In 1941, the Jackson band competed in the national regional contest held in Waco and received a first division in both concert and marching. This was the last national regional held.

In December, 1942, Ed entered the Army Air Force and served for three years and returned to Jackson Junior High in 1945. The following school year he moved to Liberty and directed the high school band until moving to Conroe at midterm in 1948. While band director in Conroe, he served also as music supervisor for the district and directed the Southeast Texas Music Festival for nine years.

In 1957, Ed opened the Cannan Music Company and operated it seven years before selling it and returning to teaching. Ed directed the Patrick Henry Junior High band (Houston ISD) from 1966 to 1970. He then took the Willis High School band position in 1970 and taught there until his retirement in 1978.

Ed has adjudicated contests and festivals in many parts of Texas and Louisiana. He served as Region Chairman of Region V in 1951. He was elected TMEA President during the Mineral Wells convention in 1952, and was re-elected at the Galveston convention in 1953. In 1952, the Beta Delta chapter of Kappa Kappa Psi of Sam Houston University made him an Honorary Life Member. He has composed and arranged a number of school songs for various Texas high schools. Ed has several band publications, and due to a request has written a "crash course in choral music reading", which was published by the Christian Publishing House in June of 1994 and is now on the market.

Ed and Mildred Ann Fisher were married in August of 1940. They have two sons, two daughters, 9 grandchildren, and four great grandchildren.

From January to May 1991, Ed came out of retirement and was band director at Buffalo High School for a former school superintendent. At age 76, Ed was probably the oldest full-time school band director in the state of Texas.