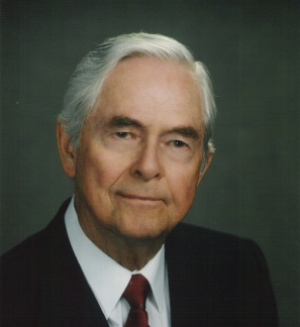 Digital Scrapbook
Wesley May has played a definite hand in the band history of the Permian Basin of Texas. He has served as a director, salesman, and clinician to bands in the wide open country that is famous for its oil and bands.

Wes was born in Bandera on November 8, 1914 to Rev. James Dewitt May and Ophelia Campbell May. Wes was the sixth child of seven. The family lived around San Antonio until 1923 when they moved to Alpine and Wes was enrolled in the Sul Ross College Demonstration School as a fourth grader. In 1928, Wes attended the Sul Ross Sub-College. In 1930, two important things happened to Wes. He received a trombone and a book issued by the Sul Ross Music Department and he graduated from high school. During the summer, he played in the municipal band sponsored by the Lions Club. Between 1930 and 1935, he played trombone with the college orchestra and also played in the college dance band. In 1933, he graduated with a degree in chemistry and math and worked for the CWA and at the Elite Cafe and Soda Fountain.

In 1934, Wes started teaching in the Valentine schools where his duties included teaching math, science and health. In 1935, Wes moved to Pecos High School teaching algebra and trigonometry and he started the first Pecos Band with 40 beginning students. During the summer he taught College Algebra and Analytical Geometry at Sul Ross and also took a course in Harmony. He received advanced standing in Music Theory and Sight Singing. In the summer of 1937, Wes went to Abilene to attend the VanderCook Band School at Hardin-Simmons University. In December of 1938 he married Evanelle Arnold, who had come to Pecos to teach Language Arts in the junior high. In the summers of 1938 to 1940, Wes attended the Texas Tech Band Camps, which were six weeks in duration.

In 1941, Wes moved to Odessa where he directed the Odessa High School Band until 1945. One of his drum majors there was fellow Hall of Fame member, J. R. McEntyre. In 1945, Wes moved to Abilene to become a music dealer. In 1953 he founded the Wesley May music company and in 1960, it became known as May and Duncan Music Company where Wes stayed until his retirement in 1982. Wes received the Outstanding Contributor award from Phi Beta Mu in 1984.

Wes still drives countless miles attending concerts, contests, band camps, and clinicing bands. Wes joins Texas Bandmasters Hall of Famer members Alto Tatum and Earl Ray as music merchants who also teach teachers.