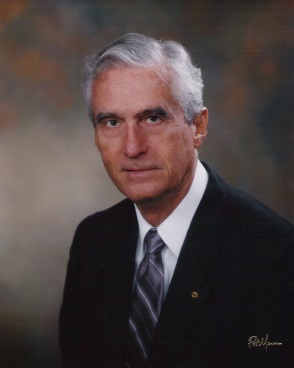 Digital Scrapbook
Think of Victoria, you think of Fred Junkin. Think of Fred Junkin, and you think of Victoria. That is what 30 years at one school can bring. Mix that tenure with performance time as a clarinetist, arranger, orchestra conductor and TMEA officer. The old adage is true, if you want something done, ask someone who is busy and they will do the job well.

Fred Hastings Junkin was born on July 9, 1927 in Corpus Christi. He attended public schools in Kerrville from grades 1 to 7, and then graduated from Schreiner Institute High School in 1944. He served in the Asiatic theatre with a Navy band in Japan until discharged in 1946. He attended the University of Texas, graduating with honors in 1950. During the 1951 school year he was band director at Teague, while finishing his master's degree. From 1951 to 1954 he was a junior high director in Tyler. On June 4, 1963, Fred received his most advanced degree, husband. He married Don Beth and in 1954, they moved to Victoria where Fred became Supervisor of Music and band director.

Several pages would be used to list the honors and recognition which have been afforded the Victoria bands. 93 First Divisions, 24 Sweepstakes, performance at Midwest in Chicago in 1977, concert for the American and Japanese bandmasters in Tempe in 1980, Outstanding at Six Flags in 1983.

During his 30 years at Victoria and since his retirement in 1985, Fred has served as an adjudicator throughout the state. He received the Mac Award in 1974. He was selected for membership in the American Bandmasters Association in 1979. In 1984, TBA named Fred Bandmaster of the Year.

Fred served on the TMEA board from 1960 to 1968, serving as president in 1965 and 1966. Son Jerry follows in the music profession as conductor of the University of Texas Wind Ensemble. Granddaughter Allison has received consecutive first divisions from both grandfather and grandmother. Fred retired from pep rallies, drills, and contests in 1985, but continues to be connected with the Victoria Symphony. Fred Junkin and Victoria are still synonymous!

Mr. Junkin passed away in March of 2017.