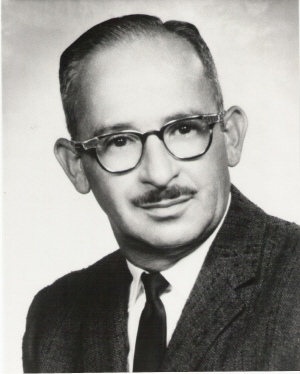 Digital Scrapbook
Robert Gans devoted his life to music. As a distinguished band director for more than 30 years he was, and continues to be, an inspiration to his students, family, friends, and colleagues.

Bob Gans was born in New Haven, Connecticut to Mary Freed and Aaron Gans on August 23, 1920, several years after they emigrated from Russia. The oldest of three sons, at age five, he began piano lessons. By age 12, he was helping support the family playing for silent movies, in clubs and burlesque. He graduated from New Haven High School in 1938 and moved to Greenwich Village "where the music scene was."

In 1942, Bob was drafted into the U.S. Army and assigned to Huntsville, Texas as a German interpreter for a POW camp. He later served as pianist in both the Manhattan, Kansas and the Camp Barkley Service Club Orchestra in Abilene, Texas. While in the Army, he met and married Joysue Self on February 21, 1946. He graduated from Hardin-Simmons University in 1949 and received the first Master of Music Degree from Hardin-Simmons in 1960. As a member and piano soloist of the cowboy band, he performed at many events throughout the country, was soloist at Governor Buford Jester. During this time he was working his way thru school playing.

He began his teaching career in Ranger, Texas in a dual role as high school band director and theory instructor at the Junior college. He wrote the school fight song for Ranger and it is still used today. In 1952, he moved to Midland to serve at Cowden Junior High School where he stayed for two years. In 1964 he taught band at Northwest High School, just out of Fort Worth. In 1955, Winters High School recruited Bob to head their music program. They wanted a first division in concert within two years. Bob gave it to them the first year and for ten years there after. He managed to produce at least one all-state student each year and a number of all-state choir members. Even though Winters was a 2A school, Bob chose music on the 3A and 4A level. The 1957 annual was dedicated to him.

In 1965, Bob moved to Borger High School where he found the opportunity to build a fine music program. True to form, he produced Sweepstakes bands seven of the eight years he was there. He also directed the school musicals; The King and I, My Fair Lady, Hello, Dolly, etc. In 1970, the Borger annual was also dedicated to Bob. The band was also chosen to participate in the Cotton Bowl halftime show. In 1973, Bob moved to Grand Prairie and won many first division awards and in 1980 received the first ever Sweepstakes before Bob retired.

Though Bob demanded loyalty from his students, he worked hard to earn theirs in return. He was willing to go out on a limb for them. When several of the boys in the Borger band got carried away and commandeered a Civil War cannon from a rival high school, they panicked and called Bob in the middle of the night. Bob helped them place the cannon on the front steps of Borger High School, went home and for the rest of the night, worried about getting fired. He inspired students to become band directors and/or professional musicians. Bob credited his flare of showmanship to fellow Hall of Fame member Raymond Bynum, for whom he served as Dean of the McMurry Summer Music Camp for years. He promoted school spirit and pride in America. His patriotic numbers were always the highlights of the year. Throughout his career, Bob was active in professional associations, served as an adjudicator around the state. Bob was president of Phi Beta Mu, and a member of TMEA and TBA. He was known for his high standards and strict discipline – his love of music and his compassion for the students he taught. He required absolute loyalty to the band organization not only from the students, but also from the parents.

Bob passed away on December 30, 1990 and is survived by his wife, Joysue, his daughters Tamala, Bobbie, Sandra, one son, Murry and seven grandchildren. In his memory, Bob's family has established the Robert H. Gans Music Education Scholarship at the University Of North Texas.

Bob Gans left a legacy of musicality that few could and a method of inspiring students to achieve their highest potential through developing a work ethic which would enhance their life forever.