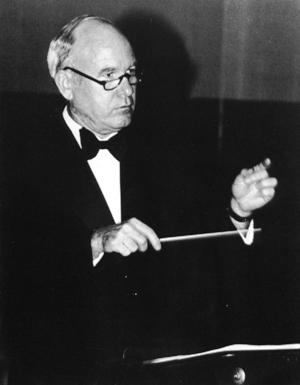 Digital Scrapbook
Bryce Taylor is a native Texan who continues to leave his mark on the band movement throughout the United States. A printed resume of his work would read like a schematic design for success, and his repertoire of jokes would rival any professional comedian. He continues to be a source of knowledge for all band directors around him.

Bryce was born February 12, 1925 in Edinburg, Texas and attended school there, graduating from high school in 1942. He served in the U.S. Marine Corps from 1943 to 1946, and attended the U.S. Marine Corps School of Music in San Diego. He received his college training at North Texas, Pan American, and Texas A & I, where he graduated summa cum laude, first in his class.

In 1951, Bryce was hired as band director at Three Rivers where he produced the Class A Honor Band in 1960. In 1961, he moved to Alice, Texas where he built a premier band program. The Alice Band was selected as one of the five finalist 12 times in 5-A Honor Band competition. Bryce's bands have been named "Best in Class" or "Outstanding" 36 times in concert competition in Georgia, Tennessee, Florida, and Texas. His 1983 band was one of the first recipients of the prestigious Sudler Flag of Honor award presented by the National Sousa Foundation.

Bryce has served TMEA in district, region and area offices. He was State Band Chairman in 1957-59, and President in 1961 and 1962. TBA selected him Bandmaster of the Year in 1983. He was the Tea runner-up, "Texas Teacher of the Year", in 1982. He has served as President, Past President and Chairman of the Band division of TMAA. He is a past member and state membership chairman of ASBDA. He has also served the UIL as district and region chairman several terms. He was recognized by "The School Musician" magazine as recipient of "They Are Making America Musical Award". Bryce is a current member of TBA, TMEA, ABA, Phi Beta Mu, TSTA, and ATPE. He continues to clinic, conduct, and adjudicate throughout Texas, Oklahoma, Louisiana, and Mississippi. More than 30 of Bryce's students have become music teachers, and approximately 200 of his students were selected as all-state band and orchestra members.

Bryce Taylor is a family man. He married his wife, Diana, in Edinburg in 1946. She was a high school counselor for 20 years. They have four children: Scott, a band director at Richardson High School in Richardson, Texas, and also a TMEA Past President; David, who is in real estate management in Austin; Cindy Lynn, a doctor in San Antonio; and Kerry, a band director at Westlake High School in Austin, Texas.

Bryce Taylor is still a visionary, steady thinker and doer, persuader, leader, and friend to every music teacher in Texas.