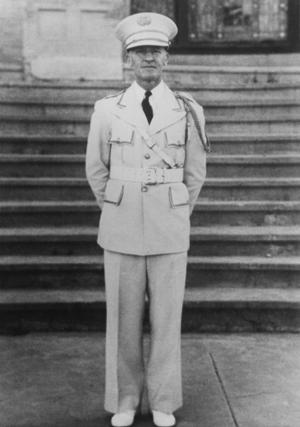 Digital Scrapbook
Jesse Ralph Smith was born October 18, 1896 in Modena, Missouri and moved to Hereford, Texas in 1905. At the age of 9, he became a member of the Hereford Community Concert Band (which was organized in 1902). He also became a member of the First Methodist Church, and later assisted in organizing and building Wesley Methodist Church.

He attended Hereford schools, West Texas Normal College, and was a veteran of World War I, serving in the Army as a mechanic. After the war, Ralph toured as a professional musician with the Harley Sadler Tent Show. For five years, he sang, played in the band, and did bit parts in plays. On tour he met and married Lurline White of Avoca, Texas. Their son Ralph Glen, a 1991 Phi Beta Mu Hall of Fame inductee, was born in Slaton, Texas during one of their tours, and his first crib was a drawer in an old wardrobe trunk.

In 1925, Ralph returned to Hereford and started the Hereford school band program. This was one of the first school bands in the region, and the only one to participate in the Amarillo Music Festival in 1926. Ralph directed the Plainview Band in 1929-1930, but moved back to Hereford in 1930. The Hereford Whiteface Bands consistently won high ratings in area contests. They also appeared at the 1936 Centennial of Texas in Dallas. In a day when formality reigned in most schools, Smith was "Ralph" to his students, yet discipline did not suffer.

Ralph was a good friend of Col. Irons, Prof. Wiley, Chief Davidson, Pop Stanley, Lyle Skinner, C.E. "Pop" Strain, Charles Eskridge and others of this area. He became a charter member of the Texas Band Teachers Association in 1936. Upon retiring from the teaching profession in 1945, he became the Deaf Smith County Veteran's Service Officer, a position he continued to hold after his election as County Clerk. At the time of his death, April 17, 1960, he was serving a third term as clerk.

Another son, Gerald, was also a 1992 inductee in the Phi Beta Mu Hall of Fame. The third child, Joan (Mrs. J.R. Euler of Hereford), is deceased.