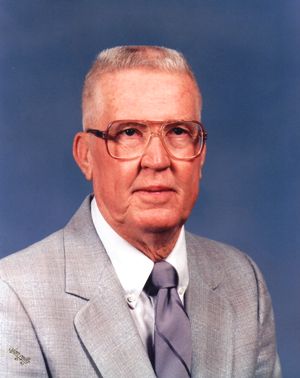 Digital Scrapbook
Gerald David Smith was born August 5, 1926 in Hereford, Texas, the second son of fellow Phi Beta Mu Hall of Fame inductee, J. Ralph Smith and his wife, Lurline. Gerald graduated from Hereford High School in 1944, and received both his B.S. and M.A. degrees from West Texas State College in Canyon. While at West Texas State, he was drum major for 3 years, a member of "The Collegians" stage band, Kappa Kappa Psi, and was a graduate assistant while working on his masters.

Gerald began his band directing career in Dalhart where he remained for one year. He then taught at Hale Center one year, Mclean 3 years, and Panhandle for 30 years (1955-1985). Gerald's Panhandle High School Bands earned 27 Division I ratings in U.I.L. Marching contests, and 24 U.I.L. Sweepstakes awards. Other honors include: Division I ratings in both Marching and Concert at the Six Flags Over Texas contest; Sweepstakes award at the Canon City, Colorado Blossom Festival; Outstanding Band in their class at the Buccaneer Parade in Corpus Christi; Outstanding Marching and Concert Band at the Carlsbad, New Mexico Festival; Outstanding Band at the Tri-State Music Festival in Enid, Oklahoma; and was guest band at the Hemisfair in San Antonio where they performed two concerts.

Gerald also served as a Region I TMEA officer, All-Region Band organizer, was host/organizer for U.I.L. Concert/Sight-Reading contests, and since his retirement in 1985 still serves as an adjudicator. Gerald is a member of T.B.A., T.M.E.A., and Phi Beta Mu. Gerald is loved, respected, and admired by his many, many students, and he gave them all a great love for music. Some of his band students even went on to a career in music. One such student is Jeff Doughten, band director at Andrews, Texas. Gerald is very proud of his star pupil, and of his other successful students.

While at Panhandle, Gerald was named the C.T.A. Outstanding Teacher in 1964. The 1965 Panhandle High School yearbook was dedicated to him. He received the "Terrific Teacher Award" in 1984 presented by the Texas Congress of Parents and Teachers, and was presented the Outstanding Citizen Award of 1985 by the Panhandle Chamber of Commerce.

Gerald and his wife, Mary Esther, still reside in Panhandle. They have one daughter, Debbie Gilchrest of Memphis, Texas and one granddaughter, Trista.