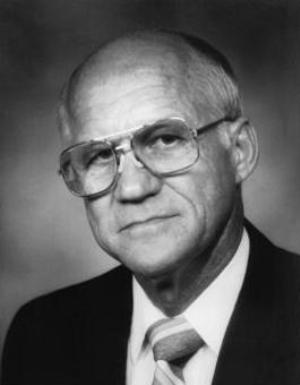 Being recognized for excellence in teaching, leadership, and performance is nothing new for J. R. McEntyre. The west Texas oil patch native has spent only six years of his life outside Odessa; he attended college at Texas Tech, he was in the paratroopers during World War II, and his first teaching job was at San Benito, Texas. His contributions to the musical and cultural life in Odessa are legendary, and he continues to serve that area of Texas as Executive Secretary of Region VI.

J. R. was born November 15, 1926 in Odessa. He attended public school there and graduated from Odessa High in 1944. J. R. played French horn, and also served as drum major of the Odessa High School Band under the direction of Wesley May. He joined the paratroopers after high school, and at the end of World War II, he returned to Texas Tech to further his education. While at Tech, J. R. played in the band under the baton of another Hall of Fame member, D. O. Wiley. In 1949, after graduating from Texas Tech, J. R.'s first teaching job took him to San Benito where he served as assistant director to Nelson G. Patrick, a 1992 Hall of Fame inductee.

J. R. returned to Odessa in 1950, serving as band director at Bowie Junior High. He also worked with Hall of Fame member, Robert Maddox, band director at Odessa High. Bonham Junior High was opened in 1955 with J. R. being that school's first band director. In 1959, Permian High School opened its doors and the incredible tradition of that band began with J. R. At the helm, J. R.'s bands not only received sweepstakes awards each year that he taught, but they also received First Division ratings in each and every contest they entered. The "Mojo" Band is widely acclaimed thanks to Mr. McEntyre's dedicated work. The Permian Band was also selected 5-A honor band during J. R.'s tenure.

J. R. was honored by being selected Bandmaster of the Year by T.B.A. He has served as president of TMEA and TMAA (Texas Music Adjudicators Association), and he has also served as State Board Chairman. He is a member of the American Bandmasters Association, Texas Bandmasters Association, TMEA, TMAA, and Phi Beta Mu. J. R. has taught in many summer band camps including West Texas State University, Texas Tech, and McMurry. He even taught band in college for one day before his great love for public school bands overrode his academic instincts. He has co-authored a band method series entitled "Division of Beat", and he has also served as an All-State conductor. J. R. has not completely retired as he is still an active clinician and adjudicator. It was in the spring of 1991 when he was called to take over the podium at Hood Junior High. Although J. R. discovered there was a difference in teaching junior high students in 1949 and 1991, he did take the Hood Junior High Band to the U.I.L. contest where they received a First Division in Concert and Sight-Reading. The golden touch, it seems, never leaves.

Evelyn McEntyre married a profession as well as a husband, but she has been a constant companion, secretary, friend, and helper to J.R. She is an example of the perfect band director's spouse. They had four children; Marcia, Janice, John, and David who is deceased. J. R. and Evelyn reside in Odessa.

Mr. McEntyre passed away in May of 2017.