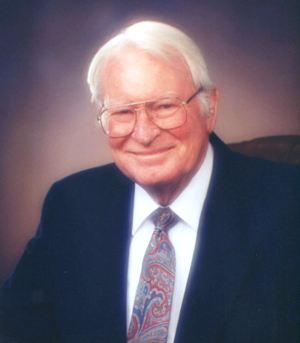 Charles Vick was born June 17, 1921 in Wills Point, Texas. He was educated in Texas public schools, and graduated from Gladewater High School in 1939, where Alto Tatum (a member of the Texas Bandmasters Hall of Fame) was his high school band director. Charles received his Bachelor of Music in 1948, his Master of Music Education in 1951, and worked on a Ph.D. in Music all at North Texas State Teachers College in Denton, now University of North Texas. His work toward a Bachelors degree was interrupted in 1943 by a short stint in the Army Medical Corps. He was discharged in January, 1944 due to severe rheumatoid arthritis.

Charles' teaching career spanned 25 years during which time he conducted bands and orchestras at the junior high, senior high, and college level. During those years he served as Region Band Chairman, Contest Chairman, and adjudicator at band and orchestra contests, and he also was a member of the staff of the summer band camp at East Texas University, Commerce, Texas. Charles started his teaching career in Junction, Texas, on February 1, 1944. In 1946, he moved to Burkburnett ISD, and then followed moves to Iraan High School; McCamey ISD; Tarleton State University; Thomas Jefferson High School, Dallas ISD; Grand Prairie High School, and finally Bowie Junior High, Irving, Texas, where he concluded his teaching career. He was in private business for nine years, but was always involved in music education.

Charles originated the Parade of Champions contest at the Texas State Fair in Dallas, Texas, and continued as Chairman and Director of this event for 12 years. This event is still in existence every year at the fair.

On April 25, 1992 Charles received the "Dorothy Award" from R.P.M.D.A. during the convention in Dallas. The "Dorothy Award" is given to the person who has shown continued dedication to music education. He has also been the recipient of numerous awards and honors throughout his teaching career.

Charles is a charter member of T.B.A., a member of T.M.E.A., Phi Beta Mu, Kappa Kappa Psi, and Retail Printed Music Dealers of America. He and his wife of 49 years, June, have one daughter, Vicki Robertson; a son-in-law Ron, and two grandchildren, Sean and Kimberley.