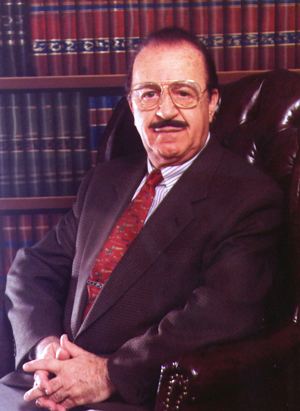 Digital Scrapbook
JOSEPH L. BELLAMAH

Joe's parents came to the United States in 1910 from Lebanon. His father was a lawyer and an interpreter, but had to work in a factory in the states. Joseph L. Bellamah was born March 1, 1917 in Utica, New York. Joe was fluent in French and Arabic before he ever entered school, and says he has tried to hold onto the latter language by reciting his morning and evening prayers in that tongue.
Joe Bellamah's musical odyssey began in Amsterdam, New York when he was assigned a flute in the junior high school band. After a couple of weeks of disliking the flute, he took it back to the director and said, "I want to play the trumpet". Play he did! He was a member of the All-State Band and Orchestra, and after he became orphaned at 1b, he played professionally in New York City as a free-lance musician. While in New York he lived in the Sloane House YMCA for $.75 a night while playing dance jobs at the Waldorf Astoria, the Hotel Pierre, and the Hotel Pennsylvania as well as at the Wurlitzer Academy of Music where he also taught trumpet in the mornings.
This phase of Joe's musical life came to an abrupt end after developing a serious case of sinus. He was told to move to a place like San Antonio and to quit playing the trumpet. Joe moved to San Antonio in 1943. Six months later his musical life was reborn. He was determined to play again, so by invitation from the conductor; he joined the San Antonio Symphony. With his health and musical prowess restored, Joe began packing to return to New York City when he received a phone call from a very persistent Weslaco school superintendent seeking a high school band director. Joe began his school teaching career at Weslaco High School where his bands consistently won Sweepstakes awards. He was one of the founders of the "Pigskin Jubilee" which is still held annually. Joe also met his wife in Weslaco and all thoughts of returning to New York ceased.
Eight years later, the Bellamahs moved to Alpine where Joe directed the Sul Ross State University Band for eight years and completed a Masters degree in Music. In 1961, Joe began a 19 year stint as band director at Texas A & I University where he ascended to the rank of full professor. Throughout the years, he continued to conduct clinics and adjudicate throughout the country, to teach privately, to travel with high school jazz groups to Europe and Asia, and to perform. He was the first President of the Texas Chapter, Catholic Band Directors National Association, and served on the National Board. He established the San Antonio Jazz Festival, and he was also a trumpet clinician for the Selmer Company.
Dr. Bellamah was honored by Texas A & I University when they named the music building "The Joseph L. Bellamah Music Building". T.B.A. honored Joe as Bandmaster of the Year in 1991. His honorary affiliations include: Alpha Chi, Kappa Delta Pi, Phi Beta Mu, International Association of Jazz Educators, C.B.D.N.A., T.B.A., T.M.E.A., and the prestigious A.B.A. He is listed in "Who's Who in the South and Southwest", "Band Bibliography", "Who's Who in Music", and "The World's Who's Who of Musicians'. He is also on the Leblanc Music Educators Advisory Board.
Dr. Bellamah's proudest accomplishments and greatest pride are his former students.

ALSO A TRUMPET CLINICIAN FOR THE SELMER COMPANY.

DR. BELLAMAH WAS HONORED BY TEXAS A & I UNIVERSITY WHEN THEY NAMED THE MUSIC BUILDING "THE JOSEPH L. BELLAMAH
MUSIC BUILDING". TBA HONORED JOE AS BANDMASTER OF THE
YEAR IN 1991. HIS HONORARY AFFILIATIONS INCLUDE: ALPHA
CHI, KAPPA DELTA PI, PHI BETA MU, INTERNATIONAL
ASSOCIATION OF JAZZ EDUCATORS, C.B.D.N.A., TEA, TMEA, AND
THE PRESTIGIOUS ABA. HE IS LISTED IN "WHO'S WHO IN THE SOUTH AND SOUTHWEST", "BAND BIBLIOGRAPHY", "WHO'S WHO IN MUSIC", AND "THE WORLD'S WHO'S WHO OF MUSICIANS'. HE I S ALSO ON THE LEBLANC MUSIC EDUCATORS ADVISORY BOARD.

DR. BELLAMAH'S: PROUDEST ACCOMPLISHMENTS AND GREATEST PRIDE ARE HIS FORMER STUDENTS.