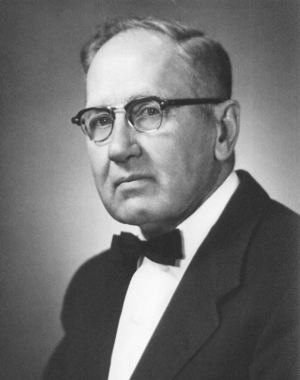 Digital Scrapbook
Oscar Wise was born August 25, 1894 in Kirksville, Missouri. The family moved to Stillwater, Oklahoma where he received his high school education. He started his music career playing trombone while he was a student at Oklahoma A & M, now Oklahoma State. He bought an old battered up brass trombone for $10.00, and the college band director, Bob Makovsky, gave him free lessons until he joined the band. He played in the band for three years, and upon graduation received a degree in Manual Industrial Arts with a minor in music. He also received his Master's degree from Oklahoma A & M, and later studied at the Vandercook School of Music in Chicago.

After working for an oil company for several years, Mr. Wise moved to Amarillo in 1920 where he taught shop and math for two years. In 1922, Mr. Wise organized the first Amarillo Sandie Band. The original band had 11 members, no uniforms, and practiced in a classroom. They played their first football game only a week after being organized. The band soon outgrew its classroom-practice room and moved to the boiler room. There was only one boiler at the time so the band was able to fit into the room. The first performance of the Sandie Band in the school auditorium was in the 1926-27 season. Mr. Wise took the Sandie Band to the National Band Festival in Tulsa, Oklahoma in 1929. As part of this festival, the Sandie Band played in a massed band concert, conducted by John Philip Sousa. Mr. Wise's daughter, Winona Wise Comfort, was a piccolo player in the band.
Another daughter, Ruth Wise Stovall, played in her father's band in the early 1940's.
The very first Amarillo band uniform was a blue cape with cap and black trousers. The first girl member joined the band in 1930. The band played at the 1926 Centennial Celebration of the Founding of Texas, and in the Cotton Bowl at Dallas in 1940 when Amarillo played for the state high school football championship.

Besides a twenty year association with the Sandie Band as director, Mr. Wise also helped organize children's bands at the Maverick Club and the Presbyterian Children's Home. He was a member of the Amarillo Symphony for 40 years joining in 1924 as a trombonist. Mr. Wise switched to cello in 1942 and played cello until his retirement in 1964.

During World War II, Mr. Wise left Amarillo High School to teach bomber electrical systems at the Amarillo Army Air Corps base. But after the war he returned to the schools where he became Supervisor of Industrial Arts in the junior and senior high schools. He remained in this position until his retirement in 1959. He turned to piano tuning in 1946 on a part-time basis, and it eventually became a full time job after his retirement. He continued piano tuning until he reached the age of 89. He passed away June 20, 1988, lacking two weeks being 94 years of age.