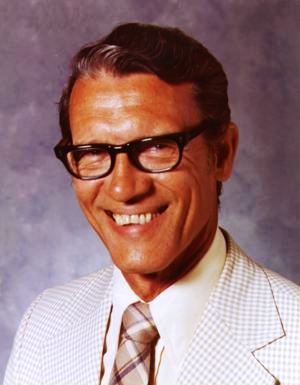 Digital Scrapbook
Eldon Sonnenburg was born in Rochester, Texas on September 6, 1920. The family moved to Shamrock, Texas where Eldon graduated from high school in 1937. He enrolled at the University of Kentucky to study music, but stayed only one semester. He then transferred to North Texas State, where he studied clarinet with Lee Gibson. He received his Bachelor, of Music degree from North Texas, and immediately went into the U.S. Army to serve during World War. II. Following his discharge, he returned to North Texas and completed his masters degree.

His first band job was in Sinton, Texas. The wet and humid climate of the coastal area caused health problems for his wife, and the doctors told the Sonnenburgs to move to west Texas. Eldon took the band job at Crane, Texas in 1947, where he developed a top rate band program. In 1959, he moved to Sherman and taught there for 19 years. He moved to Denison in 1970, where he taught until his retirement in 1980.

Eldon is considered as one of the top clarinet experts in the state. He taught at the West Texas State and Midwestern University Summer Band Camps for a number of years, plus he has served on many band camp staffs in several states. He has also headed All-State panels during his teaching career. For several years, he was selected as first chair clarinetist for the Directors Band at the Western State Band Camp at Gunnison, Colorado, directed by Dr. William D. Revelli. He spent time to continue his performance techniques while teaching. Eldon was a distinguished member of Phi Beta Mu, serving on the board for many years. He was also active in TMEA and TBA, and has served as clinician and adjudicator throughout the years.

Eldon and his wife, Mary Ruth, have retired to their to their lake home at Pottsboro. Few will ever forget Eldon's cheerful and happy outlook on life.

Mr. Sonnenburg passed away in November of 2015.