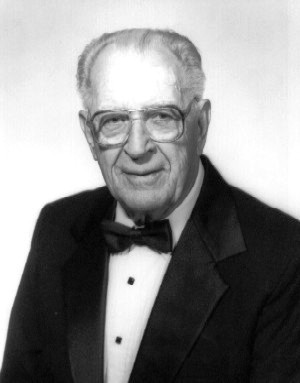 Digital Scrapbook
North Texas State bands achieved national prominence under the baton of Maurice McAdow. The band's recordings are still played throughout the United States, and the 26 annual tours the band made covered 14 states. Many of the leading music educators of Texas played under his direction.

Maurice McAdow was born on November 17, 1904 in Greenville, Illinois. His first musical experience was playing cornet in a municipal band in Anthony, Kansas. At the age of 16, he played with tent shows and stock companies. Mr. McAdow's father was a professional trumpet player and teacher, and later taught theory in a college in Billings, Montana.

Mr. McAdow played professionally from 1924 to 1930. He graduated from Illinois Wesleyan University with a Bachelor of Music degree in 1939, and he received his Master of Music degree from the American Conservatory of Music in Chicago in 1953. He was a conducting pupil of Nicolai Malko.

Mr. McAdow was associated for 14 years with the public schools in Illinois, including 7 years at Greenville High School, and 2 years at York High School in Elmhurst. He also taught at Greenville College in Illinois. He had an impressive contest record that included a string of First Division ratings through regional, state, and national contests. He became the Director of Bands at the University of North Texas in 1945 where he remained until his retirement in 1975. For 28 years, he served as adjudicator, clinician, and guest conductor in 21 states.

Mr. McAdow was Texas Bandmaster of the Year in 1973. He became a member of the American Bandmasters Association in 1974. He has a honorary lifetime membership in both Phi Mu Alpha Sinfonia, and Kappa Kappa Psi. He was a member of Phi Beta Mu, TMEA, and TBA and an educational consultant for Brook Mays Music Company of Texas. Mr. McAdow passed away on August 20, 2001.