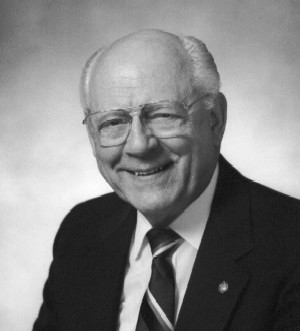 Digital Scrapbook
"Get 96 of your neighbors out and try this!" Those words from a TV commentator brought Jim Jacobsen and the T.C.U. Band to national prominence in 1958.
Jim was born on May 8, 1920 in Norwood, Colorado. He received a Bachelor of Arts degree with a major in Public School Music from the University of Northern Colorado, a Master of Music Education degree from T.C.U., did graduate study at Vandercook College of Music in Chicago, and was honored with the Doctor of Music degree from the Southern College of Fine Arts in Houston.

In the fall of 1945, he began his career as Director of Bands at Midwestern University in Wichita Falls, Texas, inaugurating the band and choir programs in that institution. He remained there ten years before moving to T.C.U. in June of 1955.
Jacobsen's marching band's were nationally prominent for nearly 40 years. While Director of Bands at Midwestern University, he was one of the first in the nation to introduce and develop the 8-to-5 system of marching. The new system demanded total revision of existing concepts of marching fundamentals and terminology, and his contribution to these areas have been widely acclaimed.

In 1958, two performances by his T.C.U. band on national television introduced his famous "moving diamond" drill technique, which later also became known as the "step-two" drill technique.

Dr. Jacobsen is a member of the American Bandmasters Association, and also holds membership in Phi Beta Mu, TMEA, TBA, National Band Association, and Phi Mu Alpha Sinfonia. He was named Bandmaster of the Year by TBA in 1988. He continues to be in demand as a band clinician and consultant, as well as, serving as guest conductor and judge for band concerts, contests, and festivals across the country. In addition, he is the executive secretary of Region V of the UIL.

Jim retired from T.C.U. in 1982 after 27 years at that institution. Jim and his wife, Wynne, reside in Ft. Worth.