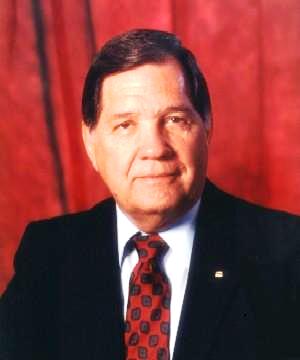 Digital Scrapbook
Durward Bellmont Howard, Jr., was born 16 July 1924 on a ranch in southwest Texas near a small town called Concan in Uvalde County. His father was a rancher in the Edwards Plateau area and Durward rode a horse to the Bear Creek Country School where he had the same teacher for grades 1-6.

The family moved to another ranch closer to school bus transportation so that Durward and his sister might attend junior high and high school in Sabinal, Texas, where he graduated in 1941.

He entered The University of Texas in September 1941 with a major in Music Education. World War II interrupted his education for 3 1/2 years during which time he served in the United States and European Theater as a soldier in General Eisenhower's Allied Headquarters. He rose through the enlisted ranks to a direct commission as 1st Lieutenant. After the war Durward completed his degree in January 1948 and took a teaching position in Temple High School as Band and Orchestra Director. He remained there for 37 years until his retirement in 1984. In 1979 Mr. Howard was named Director of Fine Arts and Humanities for the Temple ISD.

In 1952 he married Jean Fowler, also a teacher, and completed requirements for his Masters Degree from Columbia University in New York City. Also during this time the Temple High School groups garnered many awards and honors including frequent national television appearances for the Dallas Cowboys as well as New Year's Day performances in the Cotton Bowl for which he served as a Pageantry Consultant. The Temple Bands excelled in Pageantry and thematic shows, and introduced the first bandsman unfurling United States Flag on television for a Dallas Cowboy Thanksgiving game. The 30 yard long flag with 13 stripes was conceived by Mr. Howard and cut, sewn and stitched by his longtime secretary, Mrs. Roy Keith of Temple. The flag with 200 bandsmen, a drill team and a large chorus became the staple Thanksgiving performance for the Cowboys for 21 years.

During his tenure as Band Director, the Temple High School Band compiled the following ratings in official state competition: 53 First Division ratings, 8 Second Division ratings, and 1 Third Division rating. In addition the Bands received First Division ratings at Buccaneer Festival, Six Flags Over Texas, and were 1st runner-up at the Parade of Champions two years in a row. The Temple High School Band represented the State of Texas two times at the Mardi Gras Parades in New Orleans and once at the Lions International Parade in Miami Beach.

Mr. Howard served many years as an adjudicator and clinician for bands, orchestras and drill teams in Texas and Louisiana. He judged the International competition for St. Patrick's Day Festivities in Ireland in 1982, 1984 and 1985. For seven years he served as Executive Secretary for University Interscholastic events; three terms as Region Chairman for TMEA; two terms as an All State Band Organizer for TMEA; and three terms as TMEA Public Relations Chairman. Upon retirement he founded and directed for the British Government the Royal Police Band, Turk and Calicos Islands, in the Caribbean.

While at Temple High School he served as musical director of numerous Broadway musicals produced either at the high school or Civic Theatre. With fellow faculty members he and his wife initiated and taught Temple High School's first Honors Course, Humanities, which today is one of the most popular courses in the school.
Mr. Howard has received the Lions Club Leo Award two times; the Texas Governor's Commendation Plaque; the Kiwanis Outstanding Educator Award; Temple Junior Chamber of Commerce Outstanding Citizen Award; the DAR Medal of Honor; and upon retirement named by the Board of Education as Director Emeritus, Temple High School Band, Orchestra and Drill Team.

While active in many organizations, Mr. Howard has served numerous terms as President of the Temple Community Concert Association. He is a Board member of the Central Texas Orchestral Society; President of Child Help Foundation; Past President of Alpha Chapter of Phi Beta Mu and long time Secretary-Treasurer of the Fraternity following his tenure as President. In addition he has served two terms on the Board of Phi Beta Mu International. He is a member of the Sons of the American Revolution; Sons of the Republic of Texas; Texas Music Educators Association, Texas Bandmasters Association, Texas State Teachers Association and Texas Music Adjudicators Association.

In 1984 the Howards became associated with a travel agency as both had traveled widely during their teaching careers and had sponsored many student tours. The Howards still travel extensively and continue to escort groups to all points of Europe, Alaska, Hawaii, Egypt, Australia, South America and Mexico. Both continue to be active in community affairs.