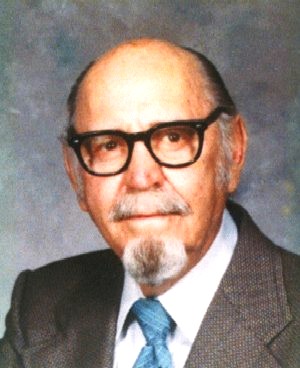 Digital Scrapbook
Dr. Joe Haddon was born July 17, 1908 in Blanket, Texas. His family moved to Ballinger, Texas when Joe was three, and that is where he started school. Robert Maddox, another of Phi Beta Mu Hall of Fame honorees, started school with Joe the same year. Joe attended school in Ballinger until the fifth grade, and then his family moved to San Angelo. Joe's parents were musical. His father played the violin and his mother the piano. At the age of four, Joe started violin lessons in Ballinger and continued studying through high school, becoming concertmaster of the high school orchestra. In the eighth grade, he became interested in the band, so his father got him a baritone, and he played in the high school band in addition to being in the orchestra. Joe graduated from San Angelo High School in 1927. He was active in music circles in San Angelo. He became a member of the Lion's Club Band, a western-type band, and traveled with them to Canada, Mexico, and all over the United States. This band became John Nance Garner's bodyguard at his inauguration as Vice-President in 1933. Will Rogers heard them in Washington and invited them to come to Hollywood and record background music for his weekly radio show. They were offered a contract to play in western movies, but declined.
Joe enrolled as a freshman at Texas A & M in 1927. He was in the A & M Band and was concertmaster of the orchestra while in school for 3 years. He only received 2 years credit, however, as he took time out every so often to play and tour with dance bands. He later finished his Bachelor's degree from Texas Tech. In 1934, Joe went to Ozona to organize a band and orchestra, and both organizations won honors in contests. Joe met D. O. Wiley at one of these contests, and was invited to come to Tech's 1936 Summer Band Camp, where he taught baritone and bass and played baritone in the band. In 1937, Joe moved from Ozona to Slaton where he assisted Clyde Rowe with the Slaton band and taught brass and violin. Joe became part-time band director at Lubbock Junior High in 1938 and continued to attend Tech. He was assistant to Dr. Wiley and drilled the marching band. At Lubbock Junior High, Joe developed one of the finest junior high bands in the country. It won regional and national honors consistently.
In 1940, Joe joined the National Guard, and became Director of the National Guard Band. He entered the service as Warrant Officer, and while at Camp Walters in 1941, was promoted to Chief Warrant Officer. In 1945 he was, sent with the band to the Philippines where he directed the band at the Rest and Recreation Center in Manila. Joe was discharged from the service in 1946.
After Joe's discharge from the service, he attended Tech for one semester, and then he moved to Big Spring, Texas, where he became director of the Big Spring High School Band. In the fall of 1947, Joe returned to Texas Tech as an assistant professor, led the marching band, taught low brass, and was an assistant to Dr. Wiley. During this time he helped found Tau Beta Sigma, and was made a member of that chapter. This was the beginning of a sponsorship of Kappa Kappa Psi and Tau Beta Sigma chapters that continued throughout his life.

Joe started work on graduate degrees in 1949, first attending the University of Colorado, and then changing to Teacher's College, Columbia University, in 1950. There he received a Master's degree in Music, a Doctorate in Music Education, and a Professional Diploma. In addition to his studies, he taught conducting and string classes, and directed the Riverside Church Orchestra. In 1954, Joe went to Midland, Texas, as Supervisor of Instrumental Music. He was also band and orchestra director at Midland High, where his bands had consistent First Divisions and Sweepstakes.

In 1961, Joe moved to Wichita Falls when Midwestern University became a state school. He was band director, starting as an associate professor and becoming a full professor in 1971. Besides directing the band, Joe taught conducting and brass classes at Midwestern, and although he retired from Midwestern in 1973, he continued as Contest Chairman for UIL Region 11 until illness forced his retirement in the late 1970's. Joe was an adjudicator at the state contests. He was also a clinician and adjudicator in Texas, Arkansas, Louisiana, Mississippi, and New Mexico. He belonged to TMEA, TBA, Phi Seta Mu, Kappa Kappa Psi as a charter member, Tau Beta Sigma, Phi Mu Alpha as a charter member, and was a life member of the National Educators Association.

Joe's total dedication in music was to his students. Of his many accomplishments, he was most proud of the band directors he trained. He was a born teacher and most enjoyed teaching, several times giving up promotions and advancement in order. To continue working with students. Directors across Texas came from his bands and the bands of those directors he introduced to the music world. The number of band directors who call Joe Haddon "mentor" is ample testimony to his success as an outstanding person and music educator.