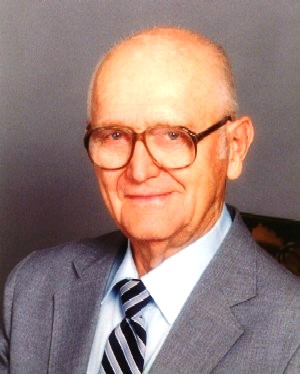 Digital Scrapbook
Rarely does any state have the opportunity to have a husband and wife as honorees at a Hall of Fame celebration. Today, the opportunity has arisen, and we are very fortunate to have Weldon and Verna Covington standing before us. Together, this outstanding couple has invested over 70 years to the teaching of students and music education, and although they have retired, they still share their love of music with everyone.

Weldon was born March 5, 1908 in Alvord, Texas. He studied at North Texas Agricultural College, now North Texas State University, and received his degree from Simmons College in Abilene, now Hardin-Simmons University. He received his Master's Degree from the University of Texas and completed further studies at the Ithaca Conservatory in New York.

He began his teaching career in Austin in 1931 and taught at Austin High School until 1953. He saw the band program at Austin High grow from eight students in 1935 to over 1000 students in 1953. He was appointed Supervisor of Instrumental Music in 1953 and served in that capacity until 1973.

Weldon served as State Band Chairman, State Orchestra Chairman and was elected President of TMEA in 1947. He was a member of Phi Beta Mu, TBA, and TMEA. He was elected to membership in the American Bandmasters Association in 1953.

Both Weldon and Verna had outstanding bands. They have received consistent superior ratings at UIL contests. In 1986, Austin's newest junior high was named "Covington Junior High" after the Covingtons. This may be the only school in Texas named after band directors, and it is believed to be the first to be named after people who are still living.