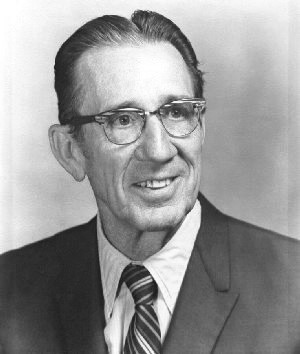 Digital Scrapbook
Homer Anderson, who directed bands in San Angelo, Texas for forty years, was born August 21, 1909 in Perkins, Oklahoma. He attended high school in Stillwater , Oklahoma, where he was a member of the first band organized at the high school. This band went on to become number one in the state, and was sent to Council Bluffs, Iowa to the national band contest. Homer earned his Bachelor of Science degree in Music from Oklahoma A & M University, and his Master of Science degree in Music from East Texas State University. He began teaching band in Konawa, Oklahoma.

When Homer moved to San Angelo in 1934 to direct the high school band, he didn't have a lot to work with – just 13 boys with a lot of spirit and desire, practically no equipment, uniforms, supplies, or music. In the second year of the program, the band gave their first annual concert with 44 boys. Forty years later at their 39th annual concert, the band performed with 141 members. Homer built one of the top school music programs in the nation. The Central High Bobcat Band was selected as one of the 100 best bands in the U.S. by a group called "First Chair of America". In 1959, the band was elected to a permanent position in the annual First Chair publication. At first there was only one band in both the high school and junior highs. Today, there are at least two or three bands at each of the city's schools. The San Angelo Central High School bands and orchestras, under the direction of Homer Anderson, have played in festivals throughout Texas and the Southwest, and they were always noted for their excellence. Their performances at the UIL contests have won them consistent first division ratings.

Homer served on many panels, committees, and commissions throughout his career, and is remembered for the many years he served as Texas chairman of the American School Band Directors Association. He was elected National Vice-President of Phi Beta Mu, and later served as president of the Texas chapter.
Homer was a highly respected band and orchestra director in Texas, and served frequently as an adjudicator and clinician. He is best remembered by his many friends as one who was willing to give his best to his students and to share his time, ideas, and experiences with his fellow directors. Homer passed away on August 6, 1988 in San Angelo.