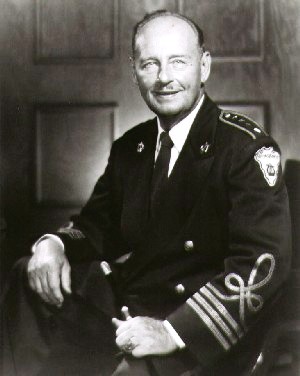 Digital Scrapbook
Organizing the first high school band in Texas and the first school orchestra are just two of Raymond T. Bynum's many accomplishments.
Raymond T. Bynum was born on August 14, 1906 in Springdale, Arkansas. He received a B.A. and B.M. from Hardin Simmons University where he was a member of fellow Hall of Fame honoree D. O. Wiley's original Cowboy Band and later, a Doctor of Music from Oklahoma City University. He was known as a flutist, adjudicator, clinician, and consultant. Dr. Bynum was married to Mary Catherine Adamson, now deceased and had four children: William, Raymond Jr., Ann and Sue.

Bynum directed the Abilene High School Band 1926 to 1946 winning many honors and awards. While at Abilene, Dr. Bynum was active in the development of the TMEA and was an innovator in many school practices still current today, e.g., marching band half-time pageantry.

He then became director of bands at McMurry College (now McMurray University) in 1946 and remained until his retirement in 1972. He was major professor to many school band leaders a number of whom are still active.

Dr. Bynum made 49 concert tours of Texas and other states as well as a concert tour to five European capitols: London, Paris, Amsterdam, Zurich and Rome with the Abilene Rotary club and five tours to Mexico including two to Mexico City.
He was honored by being named Professor Emeritus of the McMurry University Band and having the two-storied band hall at McMurry named "Bynum Band Hall"
Raymond Bynum was president of the Abilene Rotary Club, president Texas Music Educators Association, Bandmaster of the Year of the Texas Bandmasters Association. He was inducted into the American Bandmasters Association in 1954. He was also an elder in the Presbyterian Church and a 32nd degree Mason and Shriner.

The following quote sums up Raymond T. Bynum's attitude about his chosen profession, "Had I the opportunity to live my professional live over I would like to be a school band director and deal with young people. For 46 years this is what I did and would like to do again. School band teaching is a great profession!"