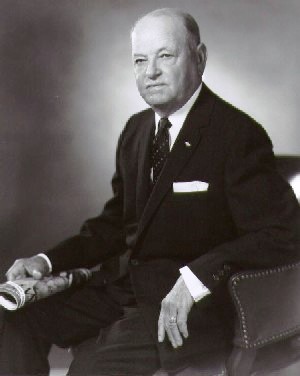 Digital Scrapbook
"Colonel" Irons was born March 10, 1891, on a farm in Hopkins County north of Sulphur Springs, Texas. His music education began at age 4 on the violin. At about 10 he played snare drum in a community band. But he soon traded instruments with a cornet player and thus began a career as a cornetist. His early instruction on cornet was by G.W. Blake, an English bandmaster.

During World War I Colonel Irons was assistant conductor and first cornetist of the Replacement Camp Band at Waco under Lieutenant S.G. Schertal. He also studied harmony and composition with Captain Patrick Conway, head of all music at Camp McArthur and later head of the School of Music at Ithaca, N.Y.

After Colonel Irons' return to civilian life he studied violin with Walter Freid of Southern Methodist University and cornet with Guiseppe Cinquomonia of the Dallas Symphony. During the early 1930's he studied at the Chicago Conservatory of Music under Richard Stross and Noah Tarrentino. During this time, as well as later, he studied cornet with Herbert L. Clarke.

In the early 1920's Colonel taught violin at Burleson College in Greenville, Texas, as well as conducted the American Legion Municipal band. He came to Arlington, Texas, in June 1925, where he took the "Lone Star Military Band" on a three month tour of the Redpath-Vawter-Chautauqua through seven Midwestern states. In September 1925 Colonel Irons became the band director at North Texas Agricultural College (now University of Texas at Arlington). In 1942 he also became the Head of the Fine Arts Department. He remained in these two positions until his retirement in June 1956.

Earl Irons attained the title, "Colonel," when he was made Lt. Colonel on the staff of Governor of Texas by Governor James V. Allred. "Colonel" was presented with an honorary Doctor of Music degree in February 1942 by the Zoellner Conservatory of Music, Hollywood, California. He became a member of the American Bandmasters Associatiosn in 1936, and from 1940 through 1948 he was a member of the ABA Board of Directors. He was elected Vice-President in February 1950 and President in 1951. Colonel was made an honorary member of the Delta Chapter, Kappa Kappa Psi, in 1938, and of the Delta Sigma Chapter in 1954.

Colonel Irons conceived and founded the national honorary bandmasters fraternity of Phi Beta Mu. He became Director Emeritus of NTAC (UTA) bands in January 1962.
Colonel Irons was composer of numerous published music for both bands and brass instruments. His most popular publication was an instruction book for cornet, "Twenty-Seven Groups of Exercises."

In March 1965 the rehearsal hall of the UTA bands was dedicated to him in a special program with a concert of "All Irons" compositions. Today the UTA Fine Arts complex houses the Earl D. Irons Recital Hall. In July 1965 Colonel Irons was named Bandmaster of the Year by the Texas Bandmasters Association.
Colonel Irons was an adjudicator and clinician throughout the South and Southwest for many years. He judged and conducted at the Tri-State Music Festival for 32 consecutive years.

He died on May 19, 1967. His widow, Lena, still resides in Arlington.
Colonel Irons' influence is indicated throughout the minutes of the TMEA and its predecessors beginning in 1920. Those who knew him will be eternally grateful for the privilege. His ever-present cigar, his proficiency on the golf course, and his quick wit endeared him to all. Colonel Irons was one of the great pioneers of American music education.