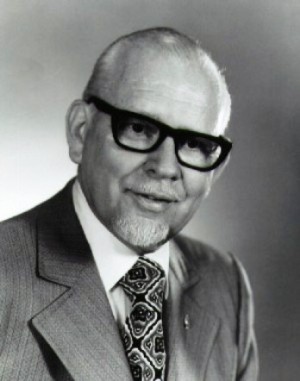 Digital Scrapbook
A man of integrity, a man to be respected. This is the legacy left to the world of music education by Jack Mahan.
He was born in Fort Worth, Texas, on August 10, 1911. In 1936 he married the lovely Florence Elizabeth Fender.

It was 1925 when he joined the band to study the bass horn. After graduating from Central High School in Fort Worth, Mahan entered NTAC and rose to the position of Band Commander under the guidance of Earl D. Irons. After post graduate work as a cadet major at NTAC, he began his teaching career as a municipal band director at Farmersville, Texas. While playing professionally in the Earl Brehrends Orchestra, he taught in the Dallas schools in 1934-36.

Mahan first rose to national prominence as director of the Union Grove High School band from 1936 to 1941. During this time he did special study at the Chicago Conservatory and received his B.S degree in music from Texas Wesleyan College. After a period of teaching in Borger and Spring Hill, he enlisted in the Air Force and spent considerable time abroad, primarily in Japan, while director of the 361st AAF Band He later commanded the 416th Army Reserve Band and retired as a Warrant Officer.

Mahan was the director of bands at Texarkana, Texas, High School from 1946 to 1952. During this time he received his M.E. in Music Education at SMU in 1950. His thesis was a historical study of the Texas Music Educators Association.
From 1952 until 1956 Mahan was the southern representative for the Carl Fischer music publishing firm. In 1956 he served as retail manager for Southern Music Company. Then in 1957, he returned to his alma mater, then Arlington State College, as Director of Bands.

In 1961 he rose to the chairmanship of the music department at what is now UT Arlington. Through his outstanding leadership this department has risen to great prominence and stands as a tribute to the man who influenced it most, Jack H. Mahan.

Mahan's service to professional organizations is widely known. He has served many capacities in the TMEA, from band organizer to its President in 1949. He was elected to membership in the American Bandmasters Association in 1952. Rising to President of ABA in l974, he presided over the joint meeting with the Japanese Band Directors Association in Hawaii. Mahan was Chairman of the Board of ABA in 1975 and now serves as the national Executive Secretary of this organization.
Mahan is a Shriner and a Scottish Rite Mason, a Rotarian, and a member of the Mother Church, First Church of Christian Scientist in Boston. A widely published author and a clinician, he has also adjudicated throughout the United States,
Among his many honors are membership in the Japanese Band Directors Association, Admiral in the Texas Navy, honorary member of Kappa Kappa Psi, and Tau Beta Sigma, a Life Alumnus of Phi Mu Alpha Sinfonia, and a Distinguished Alumni of UT Arlington.

Mahan has been called "Mr. Phi Beta Mu". This title reflects what he has meant to this bandmasters' fraternity. One of the first candidates for membership in the Alpha Chapter in 1939, he has served as its President for several terms and as its Secretary for many years. He served as the national Executive Secretary from 1950 to 1975. In 1975 he was elected as Honorary Life Secretary of Alpha Chapter.